'Hot car' mother defends herself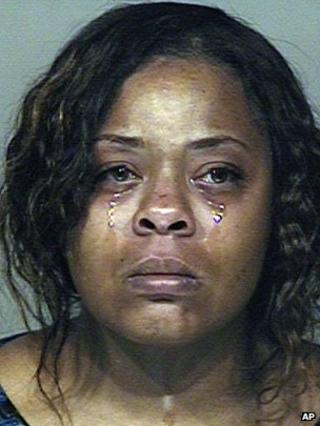 On 20 March, Shanesha Taylor had a job interview at an insurance agency in Scottsdale, Arizona. Because she couldn't find a babysitter to watch two of her children, aged six months and two years, she left them in her car.
It was a 71F (22C) day, and the children were strapped in their car seats with the windows ajar and the car's fan blowing.
While she was away for more than an hour, a passer-by noticed the children crying and called the police. When she returned, the 35-year-old Ms Taylor was arrested and charged with felony child abuse - with a maximum total prison sentence of 14 years.
Every year an estimated 38 children die in the US because they are left - almost always accidentally - in cars that become dangerously hot. In this case, the children, while displaying "signs of heat distress" according to a police report, were unharmed.
The story became a media sensation, as pundits and commentators argued over whether Ms Taylor was a victim of circumstances, a negligent parent or both. A viral Twitter graphic alleged that Ms Taylor received harsher treatment because she is black. A petition calling for charges against Ms Taylor to be dropped garnered 57,000 signatures. She has received more than $100,000 (£59,000) in donations and pro bono legal support.
"Here is a woman who wants to work, who wants to take care of her family," writes Emma Culbert of New York on the petition's website. "She may not have made the best decision, but when one is so down and out and desperate, the best choices are not always made."
On Sunday Ms Taylor spoke on the record for the first time, in an interview with Shaila Dewan of the New York Times.
"Ms Taylor described how her life had slowly disintegrated during the recession, with low-paid jobs and irregular hours," Dewan writes.
Ms Taylor recounts how she had to apply for food stamps and Medicaid health insurance for the poor, then moved in with her parents and occasionally slept in her car with her children.
Dewan then details the events leading up to the day of Ms Taylor's job interview:
The night before the interview, she put the children to bed at her parents' house and went to a Wal-Mart parking lot, where she spent hours scrounging up recyclable cans and asking passers-by for gas money, to make sure she had enough for the 35-mile drive to the interview. Her parents would be at work the next day, so she had arranged to leave the boys at a babysitter's house, she said. But when she arrived, she said, no one answered the door.
She continues:
"I felt like this was my opportunity to basically improve life for all of us, and the one key part of it is now not available, so what do I do now?" Ms Taylor said. "That was my only thought: 'What do I do now? What do I do now?' That was kind of what started the whole chain of events that day."
After Ms Taylor's arrest, the court ordered that her children be removed from her custody. They are currently living with a relative, and the court recently granted Ms Taylor visitation privileges.
Thanks to the money she has received from donors, Ms Taylor is now renting a three-bedroom house and has been reunited with Antoine Duncan, the children's father. She tells the Times she won't be at peace until she has her children back, however:
"People ask me all the time, 'Are you happier now?' They feel that I should be over the moon," she said. "When, truth be told, I stay inside and I cry because I don't have my children."
The Times piece, headlined "a job seeker's desperate choice", paints a sympathetic portrait of Ms Taylor. Although Dewan notes that leaving a child in the hot Arizona sun can be "extremely dangerous", she devotes considerable space to the lack of childcare resources in the state and Ms Taylor's financial difficulties.
Other commentators have been less approving.
"Dewan peppers this sob story with an interview with an economist and statistics about the falling rate of child care subsidies," writes Ray Stern for the Phoenix New Times. "As if society led her to the ultimate bad decision of leaving the kids in a hot car."
Ms Taylor has pled not guilty to the felony charges, and the government prosecutor has said he will proceed with the case. The next court date is set for July.