John Kerry, Iran and football diplomacy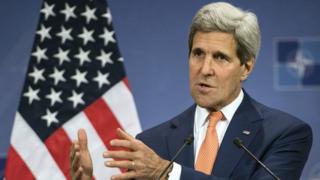 The World Cup is over, as far as the US is concerned. But in the game of international diplomacy, team America is still struggling to stay alive.
The lines between the World Cup and diplomacy have always been blurry.
On Tuesday, US Secretary of State John Kerry wrote an opinion piece in the Washington Post about the need to reach a comprehensive nuclear deal with Iran, as the 20 July deadline to reach a final agreement rapidly draws near.
Perhaps with sport on his mind, he wrote: "There may be pressure to put more time on the clock."
The metaphor wasn't lost on former Israeli diplomat Lenny Ben-David, who tweeted: "Yeah, in World Cup soccer, putting more time on the clock is called 'injury time'. Fitting application?"
Sources have told the BBC that talks in Vienna will most likely continue past the deadline. The interim deal reached on 24 November, 2013 has a clause that allows for a six-month extension. In other words, to the football diplomacy commentators on Twitter, we're heading for stoppage time.
All this sport talk drives home the point that football is far from an apolitical game.
Knowledge of football is practically a requirement for Kerry, America's chief diplomat. He keeps a ball onboard his plane as he criss-crosses the globe, kicking it around at fuel stops.
"Leaders all over the world are up on [the World Cup]," Kerry said in an interview with Sports Illustrated this week. "Everybody's got a team they follow passionately. So [sport] is a universal language in many ways. And it depends where you are and what sport it is, but almost everywhere soccer qualifies."
The power of sport should not be undervalued as a relationship-building tool, he says.
"It's a way to communicate with people, one way or the other. Breaks down the barriers, proves commonality, takes away any of the sense of 'We're different' or 'You're different' and makes people the same with the same common passions. It's a very strong language."
The football pitch has long been analysed as a diplomatic battleground, notably in regard to US-Iran relations. In the 1998 World Cup in France, the two countries faced off.
"I think all of us know the implications of this game," US forward Eric Wynalda said to the Washington Post before the match.
"It's a wonderful opportunity for soccer to bring two nations together," he added. "There have been obvious political differences between the two countries, but we as diplomats of sport can go out there and show there are more important things - like human relations."
The US fell to Iran 2-1, but the game made the front page of papers across America, a nation normally known for its football apathy.
"We did more in 90 minutes than the politicians did in 20 years," said US defender Jeff Agoos said.
World Cup 2014 has been exceptional in a number of ways - from the big upsets to the Oscar-worthy dives. Almost every game in the round of 16 has gone into extra time.
As we've seen in the World Cup, extra time ups the ante - it's where the magic happens and the real goals are made.
Unlike World Cup competition, however, politics and diplomacy can have a win-win outcome. A golden goal in soccer is not sudden death to diplomacy. And both sides have a common sentiment: no one wants to end with penalties.