Boehner: Obama lawsuit not a 'stunt'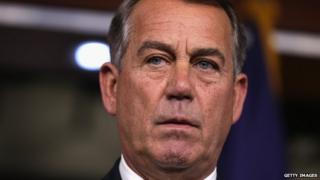 When Speaker of the House John Boehner announced on 25 June that he was planning on spearheading a congressional lawsuit against President Barack Obama for exceeding executive powers, he was met by derision from the left.
The Washington Post's Jonathan Capehart called it a "huge waste of time".
While some on the right embraced the decision, others were not as enthusiastic.
Even Mr Obama joined in, calling the lawsuit a "stunt".
"Middle class families can't wait for Republicans in Congress to do stuff," he said in a speech on 1 July. "So sue me."
On Sunday Mr Boehner fired back at the president and critics in an opinion piece for CNN.com.
"What's disappointing is the president's flippant dismissal of the Constitution we are both sworn to defend," he writes. "It is utterly beneath the dignity of the office."
He says he doesn't take suing the president lightly, but Mr Obama is not fulfilling the duties of office. The goal of the lawsuit, he continues, is to hold the president accountable.
"In my view, the president has not faithfully executed the laws when it comes to a range of issues, including his health care law, energy regulations, foreign policy and education," he writes.
He concludes by saying that it is his responsibility as one of the leaders of the legislative branch to push back against an overreaching executive:
The legislative branch has an obligation to defend the rights and responsibilities of the American people, and America's constitutional balance of powers - before it is too late.
It wasn't long before Mr Boehner once again took fire from a chorus of critics.
"John Boehner's lawsuit is nothing more than political theatre and a further Republican waste of taxpayer dollars," says conservative RedState blog's Erick Erickson. "If the Republican leaders in the House are too chicken to use their constitutional powers to rein in the president, they should just call it a day and go home."
He argues that conservatives in Congress should use their spending authority to limit the president's ability to finance his executive actions.
In the strange bedfellows file, Erickson's piece was cited by deputy White House press secretary Eric Schultz in a tweet about the administration's response to lawsuit questions.
CNN.com's Sally Kohn came at Mr Boehner from the left, accusing him of being irrational:
House Republicans are using taxpayer dollars to fund a lawsuit against a president who has literally done not only what every president before him has done but has done it less often and is doing so now only because House Republicans repeatedly refuse to even vote on legislation, let alone pass anything.
If House Republicans don't like the solutions Mr Obama is coming up with to address the nation's problems, she continues, they should take legislative action.
"Passing laws that our nation wants and needs is doing your job," she writes. "Suing the president just because you don't like him is irresponsible partisan petulance."
One of the key questions regarding Mr Boehner's lawsuit - which will have to be approved by Congress - is what it would accomplish. If congressional Republicans truly believe that Mr Obama is violating his oath of office, one possible constitutional procedure to follow would be impeachment and removal from office.
Such a pursuit is risky politics, however - a bridge too far, perhaps, for a cautious leader like Mr Boehner.
Instead, the speaker has issued clear condemnations of Mr Obama's presidency, but has yet to outline exactly which specific executive actions he will challenge and what judicial remedies he will seek.
Such details, if and when they emerge, will go a long way toward revealing the seriousness of his case.