Esquire: 42-year-old women are still sexy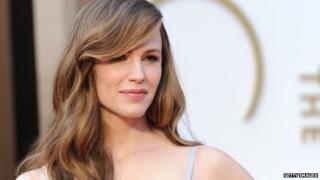 Attention all "women of a certain age" - Esquire magazine has decided that you're still sexy, as long as that "certain age" falls below 42.
In an illuminating article, Esquire writer Tom Junod pronounces 42 as the most alluring age of 2014.
In the past when women left their 30s, Junod says, they could break out the funeral pyre for both their looks and their entire sense of womanhood.
"Let's face it: There used to be something tragic about even the most beautiful 42-year-old woman," Junod writes.
"With half her life still ahead of her, she was deemed to be at the end of something - namely, everything society valued in her, other than her success as a mother."
According to Junod, if a woman refused to retire her sexual prowess at age 42, then "she was either predatory or desperate". And if she remained beautiful, her beauty only derived from the fact that it was fleeting.
If she were single, "well, then God help her," prays Junod.
But now that we've reached the modern era, Junod says it's time to rethink the relationship between age and sexual appeal.
Why? Because of science, he says.
"In a society in which the median age keeps advancing, we have no choice but to keep redefining youth," he writes.
Part of this change may even stem from feminism:
A few generations ago, a woman turning 42 was expected to voluntarily accept the shackles of biology and convention; now it seems there is no one in our society quite so determined to be free. Conservatives still attack feminism with the absurd notion that it makes its adherents less attractive to men; in truth, it is feminism that has made 42-year-old women so desirable.
This newfound attractiveness does not come easy. "Of course, they have to work for their advantage; they have armoured themselves with yoga and Pilates even as they joke about the spectacle," Junod writes.
Although the Esquire article may have started as a sincere attempt to describe a new trend in male sexual attraction, it has unleashed a deluge of criticism across the internet.
"The only thing more ludicrous than Tom Junod's feelings about 42-year-olds are the misguided assumptions that lurk beneath them," writes Tracy Moore for Jezebel.
"[They are] like a 42-year-old woman clawing at the icy surface above her, desperate to escape the tomb of her old age and fading beauty, trapped in part because she acknowledges that icy cold water could significantly invigorate her appearance."
Other commentators have pointed out that this article is less about the older women themselves and more about congratulating men on their attraction to them.
"It's very nice and all that writers are catching on that women of all ages can be sexy, but framing that as an amazing new discovery makes it more about men than it is about us (which feels about par for the course)," writes Jessica Valenti for the Guardian.
Critics say this new appeal may not necessarily derive from feminism's success, but in spite of it.
"The rise of the hot 42-year-old is a reflection of two strains in our culture, one born out of a resistance to women's growing power and another that has convinced women that aging is unsightly," writes Elissa Strauss for the Week.
For some, Junod's perspective, which he seems to interpret as edgy or possibly even revolutionary, is merely more of the same old trope - and one that not only men promote, but women as well.
"It is his article that explains why we so very much want pole-dancing to be empowering and burlesque to be the feminist revolution," writes Meghan Murphy for Rabble. "We think that the male gaze gives us power. But it doesn't. Because it is a gaze that dehumanises us. And we want to be human, guys. We want it so bad."
(By Annie Waldman)