Waiting in the (West) Wing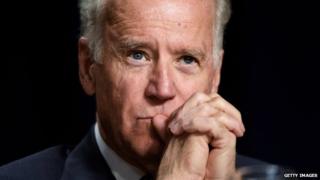 Vice-President Joe Biden, a man who has already run for the presidency twice, may have one more campaign left in him.
That's the near-inescapable conclusion one draws from the wide-ranging profile of the 71-year-old vice-president by the New Yorker's Evan Osnos.
According to friends and colleagues, Mr Biden wants to run - and he himself references a possible campaign to Osnos multiple times. There's just one problem - Hillary Clinton.
"Joe happens to be standing in the way of history," former Pennsylvania Governor Ed Rendell tells Osnos, referencing the possibility of the first female US president.
If Ms Clinton were to bow out, however, Mr Biden would join the race "in a New York minute", Senator John McCain, a Biden friend, says.
In his 13,000-word portrait of the vice-president, Osnos describes the life of the son of a Pennsylvania car salesman.
He recounts Mr Biden's battle with a childhood stutter, his 1972 election to the US Senate at the age of 30 and the tragedy of losing his wife and daughter in an auto accident shortly before he took office.
Then there's Mr Biden's legacy in the Senate, including his chairing of Clarence Thomas's controversial 1991 Supreme Court confirmation hearings and the instrumental role he played in passage of the Violence Against Women Act in 1994.
As vice-president, Mr Biden has generated a reputation as a blue-collar, garrulous counterweight to US President Barack Obama's cool leadership style - an image that has teetered between cultivated average-guy folksiness and outright parody.
Osnos recalls the "shirtless Joe washing his Trans Am" headline from the Onion, a spoof website:
"The full package - the Ray-Ban aviators, the shameless schmalz, the echoes of the Fonz - has never endeared him to the establishment, but it lends him an air of authenticity that is rare in his profession."
A former British official who has met with Mr Biden tells Osnos that the vice-president is "a bit like a spigot that you can turn on and can't turn off".
He says: "For all of the genuine charm, it is frustrating that you do feel as if he doesn't leave enough oxygen in the room to get your points across, particularly for those who are polite and don't interrupt."
But the jokes and the back-slapping persona belie a prominent role the vice-president has taken in the Obama White House. He was tasked with important domestic and foreign administration priorities, such as monitoring spending of the $787b (£461b) domestic stimulus bill and overseeing the US military drawdown in Iraq.
The vice-president took part in discussions over the war in Afghanistan, often conflicting with more hawkish administration officials who wanted to increase US military involvement. He has also taken a leading role in dealings with Ukraine.
President Obama tells Osnos he thinks Mr Biden would make a "superb president".
"He has seen the job up close, he knows what the job entails," the president says. "He understands how to separate what's really important from what's less important. I think he's got great people skills. He enjoys politics, and he's got important relationships up on [Capitol] Hill that would serve him well."
This kind of inside experience and connections are why vice-presidents make formidable candidates for their party's presidential nominations. Al Gore, George HW Bush, Walter Mondale, Hubert Humphrey and Richard Nixon all prevailed.
None of those past candidates have had anything like the looming spectre of a Hillary Clinton campaign before them, however.
According to a recent NBC News/Marist survey of early primary states, Ms Clinton leads Mr Biden 70% to 20% in Iowa, and 74% to 18% in New Hampshire.
Mr Biden's age could also be a factor. If he won, he would be 74 - the oldest first-term president in US history.
"I think it's totally legitimate for people to raise it," he tells Osnos. "And I'll just say, 'Look at me. Decide.'"
He adds: "How I measure somebody, whether it's playing sports, running a company or in public life, is how much passion they still have, How much they tackle the job."
Bill Scher of Real Clear Politics even pens what he imagines could be Mr Biden's opening speech in a campaign against the former first lady:
"After working with nearly every major world leader, helping shape the Supreme Court and spearheading the implementation of the Recovery Act that prevented a 21st century Great Depression, I have a knowledge, expertise, and vision shaped by experience that almost no one has. I feel an obligation to share that hard-earned wisdom with you, and let you decide if I belong in the Oval Office, and not just tuck all I have learned in between the covers of a memoir."
There is, of course, the possibility, that all the presidential talk may just be Mr Biden's way of staying relevant in US politics.
"Even if Biden cannot yet see a viable candidacy, leaving that prospect on the table keeps him in the deal," Osnos writes.
As Vox's Ezra Klein notes, at this point in the run-up to the 2008 presidential contest, Ms Clinton was the prohibitive favourite and Mr Obama wasn't even on the radar.
The first presidential primaries are still more than a year and a half away, a lifetime in politics.
Joe Biden must know this. He has been in politics a very long time.