A life-saving hepatitis C cure with an $84,000 price tag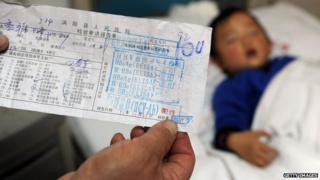 Hepatitis C is one of the deadliest virus infections in the world, affecting more than 150 million people. The good news is a recently developed cure could save thousands of lives.
There's a catch, however. In the US, patients will be required to pay $84,000 (£49,000) for a 12-week treatment, which may limit the cure to only those who can afford it.
Without treatment, hepatitis C can induce chronic fatigue and fever, and eventually lead to cirrhosis, liver cancer or even death.
In the past, a patient with advanced hepatitis C would have had to endure long-term treatments with intense side effects. In some cases, a liver transplant would be necessary, costing nearly $600,000.
Sovaldi, the new oral hepatitis C cure produced by pharma giant Gilead, is much simpler and easier to administer than previous treatments, leading many to call it a "wonder drug".
Many critics question why a drug as important as Sovaldi should have such a high price, however, raising questions on the ethics of pharmaceutical pricing. If Sovaldi can easily save lives, should its price remain low in order to have the greatest reach?
"This pricing, which Gilead attempts to justify as the cost of medical advancement, will have a tsunami effect across our entire healthcare system," writes Karen Ignagni, president and CEO of America's Health Insurance Plans, for CNN.
She calculates that if everyone with hepatitis C were treated with the new drug, at the current price the total cost would exceed $268b - more than what Americans spent on all prescription drugs in 2012.
"We cannot have sustainable medical innovation in America without prices that the health care system can sustain," says Ms Ignagni.
"Just think, could we have eradicated polio or smallpox if the treatments were priced like hepatitis C?" she asks.
Many, including the new drug's manufacturer, argue that the high cost of research and development justifies the high price tag. Critics counter that Gilead appears to be making enough to maybe reconsider its pricing strategy.
"Gilead, which had $2.3b (£1.35b) in sales for Sovaldi in its first full quarter alone, and the rest of the industry can well afford to show a little restraint," write the editors of USA Today.
"If they don't, they should expect more clamour for restraint to be imposed upon them."
Not all commentators agree that the treatment should be less expensive, however.
"It's remarkable that some large insurers have the chutzpah to complain that curing three million Americans of hepatitis C will bankrupt healthcare systems," writes Peter J Pitts for the New York Post.
"New treatments are a bargain. Disease is always much more costly," he says, citing the high price of a liver transplant.
In the long run, Pitts says that unburdened innovation will lead to lower total costs.
"Breakthrough drugs could generate huge new savings in the US economy - but only if federal regulators don't smother them in the womb with expensive and unnecessary legal hurdles," he writes.
Pitts argues that permitting pharmaceutical companies to charge a hefty price for breakthrough treatments encourages them to tackle complex (and expensive) medical quandaries.
Following a surge of criticism of the drug's high price, the US Senate Finance Committee initiated an investigation into Sovaldi in early July.
In a letter to Gilead chief executive John Martin, the committee questioned why the drug's price "appears to be higher than expected given the costs of development and production and the steep discounts offered in other countries". For example, in Egypt, the cost of the new treatment is only $900.
Ultimately Sovaldi's price may only shift if pressure mounts within the insurance industry, who will have to bear most of the weight of the high price.
"At the end of the day, insurers and Medicaid agencies have the final trump card here," writes Sarah Kliff for Vox.
"They could put their foot down, deny coverage for the drug and let massive protests from patients' ensue. But they haven't done that. While many publicly oppose the high price, they have also decided it's something they need to offer patients. And, even though they don't like the high price for Sovaldi, at the end of the day, they're willing to pay for the value it provides."
(By Annie Waldman)