Congressman Curt Clawson's big 'oops' moment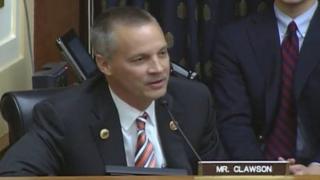 Last Thursday US Representative Curt Clawson mistook two senior US officials testifying at a congressional hearing for representatives of the government of India.
In an awkward exchange that quickly went viral, the Florida Republican boasted of attending school in India and his love of Indian films to Nisha Biswal of the state department and Arun Kumar of the commerce department.
"I am familiar with your country," he told the two assistant secretaries. "I love your country."
He then went on to request that India open itself to increased US investment.
"I ask co-operation and commitment and priority from your government in so doing," he said. "Can I have that?"
A confused Ms Biswal responded, "I think your question is to the Indian government, and we certainly share your sentiments, and we certainly will advocate that on behalf of the US government."
Foreign Policy's John Hudson first covered the howler in his magazine's the Cable blog.
"It's extremely uncommon for foreign officials to testify before Congress under oath," he writes. "Even so, it's unclear if at any point Clawson realised his mistake, despite the existence of a witness list distributed to the various members detailing Biswal and Kumar's positions."
The story made the rounds on Twitter and the liberal blogosphere, with many commentators taking shots at the recently elected conservative Tea Party-backed candidate's error.
"Note to the rookie (and, naturally, Tea Party) member of Congress: The name does not define the person, let alone the nationality," writes the Los Angeles Times's Scott Martelle.
"Mr Clawson won a special election to replace fellow Republican Trey Radel, who quit after getting caught buying cocaine," he continues. "Clawson ran as 'the outsider for Congress.' Voters should have asked him, 'outside of what?'"
The Washington Post's Jonathan Capehart says that Mr Clawson provided a "cringe-worthy moment in race that was gobsmackingly bad - even for Congress."
"Sadly, it's becoming extremely uncommon for members of Congress to actually know what they're talking about," he concludes.
The story also got play in the Indian media, as the Times of India called it "a really awkward 'oops' moment".
"The joke goes that many Americans know little about their own country and its growing diversity, let alone their own neighbours - not to even mention countries far away," Chidanand Rajghatta writes.
The Atlantic's Peter Beinart contends that the incident isn't just a reflection of the US's lack of foreign awareness, however. He says it has more to do with acknowledging the American-ness of non-whites:
"It's worth noting how unlikely it is that he would have mistaken an Irish-American for a representative of the government of Ireland or a German-American for a representative of the government of Germany."
Mr Clawson, a former college basketball player, issued a sport-themed apology on Friday evening:
"I made a mistake in speaking before being fully briefed, and I apologise," he wrote in a statement to Gannett's Ledyard King. "I'm a quick study, but in this case I shot an air ball."
Given Mr Clawson's professed love of all things Indian, perhaps he should have said he was caught playing on a sticky wicket.