Nascar's Tony Stewart, racetracks and tragedy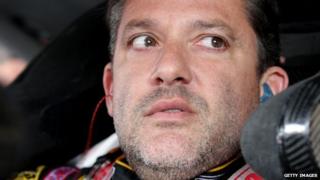 Was three-time Nascar racing champion Tony Stewart responsible for the death of 20-year-old Kevin Ward Jr?
On a dark dirt track in upstate New York on Saturday night, sprint cars driven by Stewart and Ward collided, knocking Ward out of the race. The young driver jumped out of his vehicle and, clad in a black racing suit, walked onto the track in an apparent effort to confront Stewart in his still-speeding car.
What happened next has engulfed Stewart - and all of professional racing - in a controversy that shows no signs of abating.
The rear right section of Stewart's car struck Ward as it passed, pulling him under the tyre and flinging his body over 50ft (15m). Reports are that Ward died instantly.
Because the event was part of a small-time racing circuit - the only video recording currently available is from a spectator's camera phone - reports of the incident trickled out slowly. Social media exploded with the news, however, as fans and commentators argued over incomplete facts and looked to assign blame.
Adding fuel to the fire is the fact that the 43-year-old Stewart is a highly successful driver with a net worth in the millions and a reputation as an aggressive competitor whose emotions can sometimes get the better of him.
Tyler Graves, a sprint-car racer and friend of Ward's, was quoted in the Sporting News:
"I know Tony could see him. I know how you can see out of these cars. When Tony got close to him, he hit the throttle. When you hit a throttle on a sprint car, the car sets sideways."
Graves adds that Stewart "needs to be put in prison for life".
Stewart has been interviewed by local law enforcement representatives, who say he is co-operating with the investigation into Ward's death.
"At this very moment, there are no facts at hand that would substantiate or support a criminal charge or indicate criminal intent on the part of any individual," Ontario County Sheriff Philip C Povero told the New York Times.
Some commentators said that even if Stewart did not intend to hit Ward, he acted irresponsibly.
"Stewart is so confident and so cocky - and yes, so competitive - that I think he simply was trying to scare Kevin Ward Jr," writes the Arizona Republic's Bob McManaman. "I think he wanted to send a message of his own that, 'Hey, who are you trying to challenge me on my race track?' So he opened up the throttle, which appears to be the case in the video, and ran a little too close to Ward. But it's that split-second shot of adrenaline that made the difference."
On Sunday Stewart issued a statement expressing his condolences and announcing that he would not compete in that day's Nascar race. The Greensboro News & Record's Ed Hardin says Stewart should be sidelined for as long as it takes to fully investigate the incident - or perhaps permanently:
"It's time for Stewart to stop racing. He's 43 and this isn't the first time he's been involved in a crash that he caused. For his own sake, someone needs to tell him it's over. This is about to get very ugly, and the last thing we need to see is Tony Stewart driving a race car right now."
Other writers contended that Ward's death was a tragic accident for which Stewart is not to blame.
"There is no doubt that Stewart can be a jerk. There is no doubt that he is a short-tempered competitor," writes Slate's John Swansburg. "But he's also a man with a deep understanding of racing and an abiding love for it. I can't imagine him jeopardising either the sport or his ability to compete in it by wilfully committing an unspeakably heinous act."
Motorsport's Steven Cole Smith agrees:
"The idea that any driver would purposely hit another over what was a comparatively minor, that's-racing incident is hard to swallow. That Tony Stewart would do it on purpose? That is unthinkable."
Just because Stewart has a reputation as having a temper, writes the Toronto Globe and Mail's Cathal Kelly, that doesn't make him homicidal.
"To believe that Tony Stewart intended to hit a pedestrian on a racetrack is to believe that Tony Stewart is violently unhinged," he writes. "Sometimes, terrible things happen. People get angry and do foolish things, like walking out onto a racetrack. People panic. They make small, fatal mistakes."
As the accusations and defences continue back and forth, a larger discussion is emerging about racetrack safety and whether the confrontational bravado that some drivers display, much to the delight of their fans, is jeopardising lives.
"I truly believed, given all the safety measures put in place over the last decade, the link between death and Nascar drivers was gone forever," writes the Dallas Morning News's Tim Cowlishaw. "Maybe if there is one good thing to come from this awful night it's that racers at all levels will learn that leaving a car to confront a rival still driving one is a terrible idea."