Echo chambers: Should US play nice with Syria's Assad?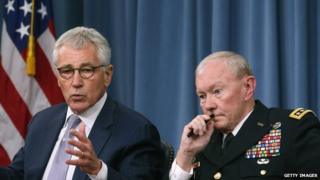 The murder of US journalist James Foley has gruesomely illustrated just how dangerous the Islamic State (IS) has become. That's led some to wonder if the US must now ally with Syrian President Bashar al-Assad.
IS has strongholds in much of Syria and Iraq, and is one of the many groups in opposition to Mr Assad's regime.
Former UK chief of the general staff, Richard Dannatt, is one of those considering such an unholy alliance.
He told the BBC's Today programme: "The old saying, 'my enemy's enemy is my friend', has begun to have some resonance with our relationship in Iran, and I think it's going to have some resonance with our relationship with Assad."
It is an idea that has been circulated for several months, mostly theoretically. Writing in the Turkish newspaper Hurriyet (as translated by WordCrunch) Verda Ozer posted an editorial earlier this month arguing that not only is Mr Assad motivated to fight IS, but the group's increasingly brutal presence in the region could give the Syrian president a certain legitimacy.
"With a growing fear of IS, people may settle for living under his rule. The Syrian opposition might also compromise as jihadists gain more and more power."
She also noted the precedent - Iran and the US, usually at odds, have worked together towards stability in Iraq.
Since her editorial was published, the conversation about what to do with IS has taken on a new seriousness in the US thanks to the beheading of Foley, and the revelation that another journalist, Steven Sotloff, is being held by IS and could also be killed.
In the Washington Post, Adam Taylor talked to several scholars about how IS was changing the rules in the Middle East.
"Americans are understandably reluctant to help Assad because he is a depraved dictator who responded to the Arab Awakening by turning his military against the Syrian population," he quotes Max Abrahams, a terrorism policy expert from Northeastern University, as saying.
Still, he says there's a political calculus at play when it comes to the safety of American citizens.
"Whereas Assad has never posed a direct threat to the US homeland, IS is actively scheming to carry out a mass casualty attack against us. From a US national security perspective, IS is the more immediate threat."
Or, as PJ Media's Walter Hudson writes:
"Anxiety over 'helping' Assad by undercutting his opposition in Isis [former name for IS] seems based primarily on concern over the death of innocents in Syria.
"But if Isis presents a threat to American citizens, then failure to neutralise the aggressive Islamic totalitarian horde potentially sacrifices Americans for the sake of Syrians. That's not a trade our government may properly make."
In Australia, former CIA counter-terrorist officer Patrick Skinner spoke to the World Today programme and argued that other options - such as strengthening moderate rebel groups - were not feasible.
"If there are extremists and moderates in the same fighting field, extremists will win and you don't want to just keep giving weapons to an uncontrollable situation," he said. "So practically, working with Assad might be the best way to pacify Isis."
However, there was one important caveat.
"Whether that is politically and diplomatically achievable, it's beyond me," he said.
Indeed, such an alliance, formal or otherwise, would not be an easy one. Writing in Buzzfeed, Rosie Grey notes that "taking sides with Assad would force the US to also seek co-operation from Syria patrons Iran and Russia, something that in Russia's case would not be easy".
Not to mention the grave moral concerns, says Brooklyn Middleton in al-Arabiya. Pairing with Mr Assad would only reward someone responsible for both crimes against humanity and strengthening IS in the first place.
"Noting the utter lack of humanity that is calling for security co-operation with a mass murderer after he's killed with impunity for years, it is also a policy recommendation that wholly ignores the fact that Assad - like using starvation as a weapon - cultivated IS' own rise as an effective strategy for remaining in power," he says.
Rachel Bronson, a senior fellow for global energy at the Chicago Council on Global Affairs, says in the New York Times that America's drive to root out IS does not mean that Mr Assad will suddenly fall into the good graces of the west.
"Bashar al-Assad should be under no illusions," she says. "Increased American presence on his border does not bode well for his long-term political survival.
"Defence Secretary Chuck Hagel and Gen Martin Dempsey made this clear Thursday when they agreed that Syria is 'probably the central core' of the Isis problem."
Getting rid of IS, she says, can be done without Mr Assad - and will show him that "no leader is indispensible".
The British government seems to agree. Foreign Secretary Philip Hammond told the BBC an alliance between the UK and President Assad was not an option, as it would not be "practical, sensible or helpful".
But the world just witnessed an American private citizen killed in a very public way at the hands of IS. With IS threatening to kill another US hostage, the US government may have little regard for what's considered sensible.
Have you found an interesting opinion piece about global issues that we missed? Share it with us via email at echochambers (at) bbc.co.uk.