At presser, Obama's suit does the talking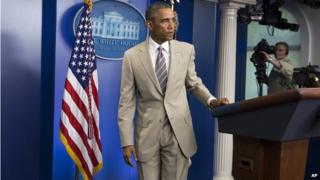 On Thursday afternoon Barack Obama delivered some stern words toward the Islamic State and Russia. This meant, of course, that Twitter was abuzz with talk about the beige suit the president was sporting.
The last time tan togs were this discussed in Washington, Vice President Al Gore had started wearing earth tones after feminist author and political consultant Naomi Wolf reportedly told him it would make him look more like an "alpha male".
Here is an unofficial list of the 10 best lines on Twitter during the president's speech:
"The emperor has no taste in suits." - Mark Hemmingway, the Weekly Standard.
"Who will have the first 'Potus Suit History' piece? Even money on BuzzFeed, but could also see Slate on it." - Josh Sternberg, the Washington Post.
"Obama vows to defeat whoever made him wear this suit." - Josh Barro, the New York Times.
"Missed Obama's remarks, but from the pictures I've seen, the main problems with his suit are the lapels and that it doesn't fit very well." - Brian Beutler, the New Republic.
"Obama's suit gets more attention than his words? Welcome to every day in the first lady's life." - Laura Basset, the Huffington Post.
"Obama hopes to frighten Vladimir Putin into submission with this suit choice." - Ben Shapiro, Truth Revolt.
"Denim or nothing, Mr President." - Tim Murphy, Mother Jones.
"Once again, sartorial policing falls to America's best dressed: Washington, DC-based journalists" - Evan McMorris-Santoro, Buzzfeed.
"Who gave President Obama that old church suit from my dad's closet?" - Wesley Lowery, the Washington Post.
Winning Twitter, however, is Congress's elder statesmen, the soon-to-be-retiring congressman from Michigan, John Dingell, who signalled his approval.
In October 2012, the president told Vanity Fair's Michael Lewis that there's a reason he only wears grey or blue suits.
"I'm trying to pare down decisions," he said. "I don't want to make decisions about what I'm eating or wearing. Because I have too many other decisions to make."
That doesn't mean this is the first time the beige suit has made it out of the president's closet, however. As many noted, he donned the light-colour duds this Easter.
Cue more church jokes, I suppose.