The NFL's domestic abuse problem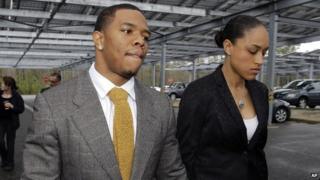 Two videos showing an American football star in a vicious attack on his girlfriend have cost him his multimillion dollar contract but also left the reputation of the league in tatters.
In October the National Football League will heartily embrace Breast Cancer Awareness month.
Fields will be decorated with the movement's ubiquitous pink ribbon-logo.
Players and coaches will don pink gear - shoes, sweatbands, hats and gloves. Commercials will be aired; survivors will be honoured.
Critics say the NFL isn't doing all this because of some altruistic spirit - it's all about marketing its product to women.
Female viewers are a prime television demographic, and the league has been conducting a concerted campaign for years to boost its ratings and develop a market for female-targeted merchandise.
By all indications the NFL's push has been a success. According to the league, in 2010 93 million women watched an NFL game. The league reports that 44% of its fan base is female. The female audience continues to be a growth area for a sport that has pretty much reached its maximum exposure among men.
All the colour-themed cancer-awareness promotions, shapely team jerseys and jewel-encrusted NFL handbags may be at risk, however, due to the damage being done to the league's image following the release of the graphic video of Baltimore Ravens running back Ray Rice knocking his then-girlfriend unconscious.
The Rice story is just the most prominent case in a continuing litany of domestic abuse incidents for the league. According to a study by USA Today, 85 of the 713 arrests of NFL players since 2000 were for domestic abuse incidents.
In 2013, the Christian Science Monitor reports, 21 of the league's 32 teams had players involved in domestic violence incidents. Five Thirty Eight's Benjamin Morris writes that while the arrest rate for domestic violence is lower than the national average for similarly-aged men, it's much higher when the perpetrator's income is taken into account.
Feminists writers, such as Jezebel's Erin Gloria Ryan, are calling for an NFL boycott, and the story is making waves in the mainstream press.
The Washington Post's Ruth Marcus writes that the "feckless, enabling, see-no-evil National Football League and the feckless, enabling, see-no-evil Ravens management preferred not to ponder what it takes to knock out a human being".
The NFL initially decided to impose and stand behind a two-game ban on the player, she writes, revealing what they thought of the seriousness of the incident.
On 28 August, NFL commissioner Roger Goodell attempted to quiet the critics by announcing the league would impose six-game suspensions for future domestic violence infractions and a lifetime ban for repeat offenders.
As Grantland's Andrew Sharp points out, however, three days later San Francisco's Ray McDonald was arrested for striking his pregnant fiancee. The league has yet to discipline him, and he took the field on Sunday.
Sharp writes:
"For a league that can't even announce new domestic-violence penalties without a player getting arrested for domestic violence within 72 hours, it might be time to start sending stronger messages. This isn't a court of law. 'Not getting arrested for domestic violence' is a pretty low bar to clear for players who want to play every Sunday."
Sharp goes on to note that Carolina's Greg Hardy was found guilty of domestic violence over the summer. He's appealing against the verdict, and he played on Sunday as well.
But eventually the rules will be enforced and the public will recognise the NFL is trying, right? The league is already getting praise - "Bravo, NFL" - from some quarters.
Deadspin's Barry Petchesky counters that the new NFL domestic violence rules are filled with loopholes and considerations of "mitigating factors". The lifetime ban, for instances, can be appealed and rescinded after one season.
"They are neither new nor are they rules," he writes. "They are words strung together in such a way that people will respond by saying, 'Wow, the NFL takes domestic violence seriously.'"
Mr Goodell wants to "project an air of authority", but it's authority he already had. He could have suspended Mr Rice for six games - or indefinitely - before the new rules were released. The NFL chose not to act until the public outcry threatened its bottom line, Petchesky says,
Mr Goodell has said that the NFL embraces its role and responsibility as a "leader" that stands for "important values". Sharp says his "words ring hollow". The reaction on Monday to the Rice video should be a wake-up call for the league.
"If owners don't really care about the NFL setting some grand standard for the rest of society, that's totally fine," Sharp writes. "But Monday should scare them. If the NFL ever really loses supremacy in sports and culture, Monday is a good preview of what that looks like. The league will become such a mess that nobody can bring themselves to care about the actual games."
Oh, and speaking of the league's owners - the people who hired Goodell and ultimately are responsible for the league conduct - there's this little nugget.
On Tuesday Dallas Cowboys owner Jerry Jones, one of the most powerful men in the NFL, was sued for sexual assault. Although the substance of the charges will be aired in court, the case has already led to the release of embarrassing photos taken by his accuser of the outspoken Mr Jones groping strippers. These aren't the images the league wants in people's minds as it tries to talk seriously about women's issues.
On Tuesday night Mr Goodell sat down with CBS to attempt to defend the league and his actions in the Rice incident. He had to explain why a video of an unconscious Janay Palmer being dragged from an elevator and a police report that Rice struck her warranted only a two-game suspension, while the full elevator video of him landing the blow led to an indefinite ban.
Goodell said:
"I will tell you that what we saw on the first videotape was troubling to us in and of itself. And that's why we took the action we took. As I've said before, we didn't feel that was sufficient, we didn't get that right. But what we saw yesterday was extremely clear, it was extremely graphic, and it was sickening."
Responses like that "won't change anything", Salon's Katie McDonough writes. She goes on to join a growing chorus calling for Goodell's resignation.
"It has long been clear that the NFL is indifferent to violence against women," she says. "This incident was just too much of a media headache to ignore, so the NFL acted - belatedly, inadequately, cynically."
Whether the NFL's actions are enough remain to be seen. Will fans turn their back on the NFL in anger and disgust or tune in and cheer over the many Sundays to come?
The NFL is a business - one of the most successful in the US. The bottom line, in the end, is the bottom line.
UPDATE: The Associated Press is reporting that a law enforcement officer claims to have sent a copy of the incriminating elevator assault video to "an NFL executive" three months ago. The officer also provided the AP with audio of a voicemail recording from an NFL office number confirming receipt of the video.
If these reports are substantiated, it will become increasingly difficult for Mr Goodell to stand by his assertion that no one in the league had seen the full video before this Monday.