For Eric Holder, race was the defining issue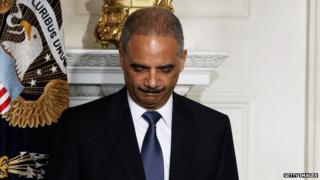 Over his nearly six years in office, US Attorney General Eric Holder - who on Thursday announced he plans to resign - had become a regular target of conservative ire.
The attorney general was the subject of a torrent of allegations, including obstruction of justice in investigations over the ill-conceived "Fast and Furious" gun-running operation, supporting a trial for al-Qaeda leader Khalid Sheikh Mohammed in New York and a perceived failure to enforce immigration, welfare and healthcare laws.
While these issues garnered a great deal of attention in the conservative press, it was perhaps inevitable that the real debate over Mr Holder would centre around one issue - race.
"Someday, another black president may name another black attorney to run the Department of Justice, and their shared identity may not matter so much," writes NPR's Ron Elving. "But for Holder and Obama, breaking the racial barrier as the nation's top two law enforcement officers meant living with the consequences."
While Barack Obama has conscientiously tried to avoid the race issue in public whenever possible, Mr Holder has often confronted it head on.
In 2009, for instance, he said the US was "a nation of cowards" on racial issues. In 2013 he called statistics showing longer prison sentences for black males compared to whites who committed similar crimes "shameful".
"It's unworthy of our great country, and our great legal tradition," he said.
Mr Holder's actions have come with the president's implicit authorisation, according to Politico's Glenn Thrush. "Holder has been willing to say the things Obama couldn't or wouldn't say about race," he writes.
For conservatives, Mr Holder has pursed a racial agenda that favoured chosen minorities over the public at large. As evidence, they cite his decision not to prosecute members of the New Black Panther Party who had been accused of voter intimidation in 2008 and the justice department-led challenges to voter identification laws in North Carolina, Wisconsin and Texas.
"He's been after an agenda, and if the constitution was in the way, he trampled on the constitution," columnist Charles Krauthammer said on Fox's Special Report.
The editors of the National Review write that Mr Holder's resignation is "an act of mercy toward the American public". The attorney general, they say, engaged in "rank partisanship" on racial issues then hid behind his skin colour when criticised.
"Holder dismissed his critics as racists, eager to destroy him and the president because 'we're both African American'," they add.
"Holder has transformed the US Department of Justice into a racial grievance incubator, an intensive care unit for kooky, authoritarian ideas that should have died after the 1960s," writes Frontpage Mag's Matthew Vadum.
One columnist compared the attorney general to segregationist Governor George Wallace of Alabama.
"Like a modern-day George Wallace, Holder has called for racial preference now, racial preferences tomorrow, racial preferences forever," says the Cato Institute's Ilya Shapiro in a piece that was removed shortly after it was published on the think tank's website (but is cached here).
For liberals Mr Holder actions weren't faults, they were his crowning achievement. He was the first attorney general to seriously address institutionalised racism in US society and within the justice system specifically.
"As Holder departs, he leaves behind a civil rights legacy that includes some of the broadest steps in recent decades to dismantle - or at least lessen - the racial disparities in America's criminal justice system," writes Vox's German Lopez.
"The reforms tackled major issues within the US justice system such as mass incarceration, the war on drugs and harsh local policing," he continues. "These issues had gone largely unquestioned by Holder's tough-on-crime predecessors, despite some of the deep racial disparities they helped create."
The New Yorker's David Cole calls Republican criticism of Mr Holder for things like the gun-running scandal or terrorist prosecutions "blips on the horizon".
"Holder's real legacy lies in his refusal to be a coward on matters of race, and his courage in using the power and influence of his office to press the arc of our criminal law a little closer toward justice," he concludes.
Mr Holder's legacy is inextricably intertwined with that of Mr Obama. He is one of the president's longest-serving cabinet members and, by all accounts, a close friend and confidant.
The sharp words over the outgoing attorney general have been, in effect, a proxy fight over the political epitaph that will be written for the president in two years. And when that day comes, the race issue will again be unavoidable.