Secret tapes pull back curtain on Goldman Sachs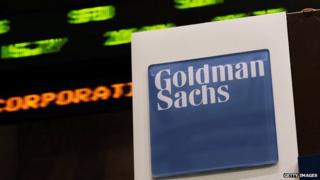 In 2009 the Federal Reserve Bank of New York set out to investigate why US government officials were so blind to the Wall Street crash of 2008. Why were they unable to forecast the oncoming financial crisis? Why did the economic contagion nearly topple the whole global financial system?
The fault, according to an independent review by Columbia University Prof David Beim, was that the government regulators were too deferential to the banks they were supposed to oversee. Within the New York Fed, employees were urged by their supervisors to look the other way when they found violations and to temper critical reports.
For many this isn't exactly news. What would be news, however, is evidence that shows that even after the financial collapse, and even after congressional attempts to institute more stringent oversight, nothing has changed. And there are secret recordings - made by a former New York Fed employee - that many are claiming provide first-hand evidence of continued government neglect.
These allegations are contained in an investigative report published on Friday by ProPublica in partnership with the radio programme This American Life. The author, Pulitzer Prize winner Jake Bernstein, spoke with former New York Fed employee Carmen Segarra, who was originally hired to boost oversight efforts following the 2008 collapse.
She was fired seven months later after clashes with her supervisors - but not before she secretly recorded more than 46 hours of meetings to support her claims that she was terminated because she wouldn't tone down her criticism of Goldman practices.
She sued the New York Fed alleging wrongful termination, but a judge dismissed her case in April. She is currently appealing the decision.
In her recordings a Goldman employee says that "consumer laws don't apply" to their wealthiest clients, for instance, and that she should pretend she didn't hear incriminating statements.
Bernstein recounts one of the recorded confrontations with a supervisor, Kim, which he cites as evidence that Ms Segarra was told to back down from sharp criticism of her Goldman colleagues:
Kim said that she needed to make changes quickly in order to succeed.
"You mean, not fired?" Segarra said.
"I don't want to even get there," Kim responded.
It would be unfair to fire her, Segarra offered, since she was doing a good job.
"I'm here to change the definition of what a good job is," Kim said. "There are two parts to it: Actually producing the results, which I think you're very capable of producing the results. But also be mindful of enfolding people and defusing situations, making sure that people feel like they're heard and respected."
Segarra had thought her job was simple: follow the evidence wherever it led. Now she was being told she had to "enfold" business-line specialists and "defuse" their objections.
"What does this have to do with bank examinations," Segarra wondered to herself, "or Goldman Sachs?"
The ProPublica report has prompted a renewed round of criticism of New York Federal Reserve practices and Goldman Sachs's behaviour.
Author Michael Lewis, a former Wall Street trader turned outspoken critic, penned a column for Bloomberg View arguing that the Goldman Sachs tapes should shock the public in a similar way to the video of NFL star Ray Rice punching his girlfriend in a New Jersey elevator.
He says the recordings reveal the "breathtaking wussiness" of government employees.
"Wall Street's regulators are people who are paid by Wall Street to accept Wall Street's explanations of itself, and who have little ability to defend themselves from those explanations," he writes.
Vox's Dylan Matthews writes that Goldman has been found to have committed far worse actions than are outlined in ProPublica's investigation. The real scandal, he says, is "the Fed's inability or unwillingness to uphold the rule of law".
"Reasonable people can debate whether specific regulations are necessary, but even the best set of rules is totally insufficient if paired with an enforcement system that applies them inconsistently or not at all," he writes.
It's not enough to read about the tapes, writes the Washington Post's Matt O'Brien. Hearing them first-hand is what really drives the message home.
"You have to hear how obsequious the supervisors sound when they talk to Goldman's executives, almost apologetic for not-quite doing their jobs," he says.
"The bad news is there's no easy answer here, because culture is a lot harder to change than regulations," he continues. "And that's why we need regulations that don't depend - or at least depend less - on uninhibited regulators. Things like tougher capital requirements might be smarter policy.
The New York Federal Reserve Bank has responded to the allegations with a statement that reads, in part:
"The decision to terminate Ms Segarra's employment with the New York Fed was based entirely on performance grounds, not because she raised concerns as a member of an examination team about any institution."
Goldman Sachs told Bernstein that Ms Segarra unsuccessfully applied for jobs at the investment bank on three occasions and that her supervisors contradicted her claims.
According to financial author William D Cohen, the system - created by big banks, for big banks - is working just as designed.
"The Segarra Tapes actually reveal little or nothing that was not already known, assuming you have a shred of understanding how the Federal Reserve banks actually work," he writes for Politico Magazine.
"To think that the New York Fed exists for any other reason than to advance the commercial and regulatory interests of Wall Street is simply fantasy," he writes. "Clearly Segarra did not get that message when she joined the bank as one of Goldman's regulators. So she learned the lesson the hard way and got fired."
In his Bloomberg column Michael Lewis concludes with a challenge.
"So what are you going to do about it?" he asks. "At this moment the Fed is probably telling itself that, like the financial crisis, this, too, will blow over. It shouldn't."
Perhaps it shouldn't. And perhaps the importance of what is contained in the Segurra tapes is a thousand of times greater than a sport league looking the other way when a football player assaults his future wife. But even in the NFL case, the powers that be are still in power.
And the NFL is small beans compared to Goldman Sachs and the might of the Wall Street establishment.