'American royalty': Clinton baby gets astrology chart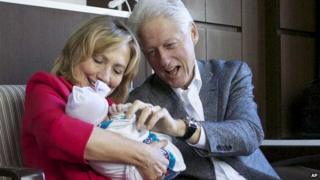 Typically seen as a source of news for politically obsessed wonks, the Washington, DC, newspaper Politico found itself the butt of jokes this week when it published an article featuring predictions for the future of Chelsea Clinton's newborn daughter, according to "leading astrologers".
Kendall Breitman writes that according to the astrologers, Clinton's daughter - born last Friday - may not be involved in politics, but will find a way to get involved in activism and social justice. One expert said she is likely to lean toward issues of finance rather than just bare-bones politics.
The astrologers also said that the little Libra's relationships with her famous grandparents would be affected by the time, date and place of her birth.
Ophira Edut, an astrologer quoted in the article, said baby Charlotte's relationship with Bill Clinton will likely be very playful, while her relationship with Hillary Clinton will be very powerful, emotional and possibly spiritual.
"She really will be 'Billary', because she is going to have his charm and likability and Hillary's sort of focus and intensity and desire to make things happen, so it's going to be an interesting combo," Edut says.
Joan McCarter, writing for the Daily Kos, that Politico reached "peak vapidity" with the article:
"Apparently Chelsea Clinton and Marc Mezvinksy, the actual, you know parents here, were merely the vessels through which the real Clintons spawned the next generation of female Clintons," she writes.
Mediaite's Evan McMurry says that while this was a welcome change from the typical over-politicisation of the birth of the newest Clinton, it doesn't provide much insight.
"The best moment came when one astrologer momentarily realised that Charlotte's familial wealth and connections will have more of an impact on her than her sign. The fourth wall was quickly repaired," McMurry jokes.
Catherine Thompson, writing for Talking Points Memo, says that Politico had lost its edge - "jumped the shark" - with the story.
"Readers could most likely figure out without the help of an astrologer that baby Charlotte would enter the professional world in a position of power and money, but there you go," she writes.
She says this article is in the same vein as another recent story in which Politico acknowledged the absurdity of speculating about the baby's effect on a potential Hillary Clinton presidential run while simultaneously listing out what baby names would play well in Iowa and New Hampshire.
Breitbart's John Nolte was quick to chime in.
After offering congratulations to the Clinton family, he asks readers not to let their criticisms of Politico detract from the happy occasion. But, he writes, this article is another example of Politico "slobbering over powerful Democrats".
"In times long past, when royalty was born, the king and queen often asked superstitious member of the court to read the stars," he says. "It's good to know Politico is keeping tradition alive."
But Allahpundit, the founder of the conservative blog Hot Air, sees the article in another light.
The authors of articles like this know what they're writing is "goofy", he says, but they also know that there's an audience for this type of information.
Beyond that, he says, this type of coverage is typical on the occasion of royal births. In the US, the Clintons are as close to royalty as they can be.
"Americans pride themselves on their egalitarian heritage in rejecting monarchy, and yet they palpably crave a noble class of celebrities, political and otherwise, on whom power and riches naturally devolve," he writes. "What's wrong with a 'political news' magazine catering to that interest by inviting soothsayers to say what's in store for the future queen?"
Salon's Luke Brinker also sees some measure of justification for the piece.
He points out that while it might seem silly, Politico's core mission includes proving that there's a "robust and profitable future for tough, fair and fun coverage of politics and government".
Technically, he says, this article is in line with their mission.
Still, he managed to poke fun at the article, recalling when the press took then-First Lady Nancy Reagan to task for consulting with astrologists. The assassination attempt on her husband's life had apparently awakened an interest in the occult.
"True to form, Politico took care to consult 'leading astrologers' for its story," writes Brinker. "The competition might speak to the dime-store variety; Politico talks to the high-quality kind Nancy Reagan might have hired to arrange her husband's schedule."
Politico may have gotten a lot of attention for its article, but it seems critical praise was not in the stars.
(By Kierran Petersen)