Satya Nadella's 'karma' advice: 'Deplorable and incorrect'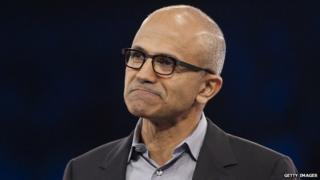 When you're a speaker at a "celebration of women in computing", it's probably not a good idea to make off-the-cuff remarks about how women should trust "the system" to give them the pay they deserve.
This is the lesson Microsoft CEO Satya Nadella learned the hard way on Thursday.
"It's not really about asking for the raise, but knowing and having faith that the system will actually give you the right raises as you go along," Nadella said during an on-stage interview.
"Because that's good karma. It'll come back because somebody's going to know that's the kind of person that I want to trust," he said.
Given that this was a tech industry conference, Mr Nadella's controversial remarks appeared on Twitter and other social media sites practically the moment they were spoken. By morning they were making national headlines.
The resulting commentary is the stuff of Microsoft public relations nightmares.
"Nadella achieved this emotional engagement by offering up the most deplorable and incorrect advice to women in the workplace since Joan Holloway told Peggy Olson to wear something that showed off her darling ankles," writes Nitasha Tiku on the tech blog ValleyWag, referring to the television programme Mad Men, which depicts office culture in the 1960s.
At Time, Laura Stampler writes: "Gender pay gap got you down? Take a crash course from Microsoft CEO Satya Nadella's Etiquette Academy For Polite Young Ladies: Smile pretty and don't be so unbecoming as to ask for a salary bump. After all, a raise is a lot like a male suitor, and if you pursue it, you might just drive it away."
Although the "karma" portion of Nadella's speech gained the most attention, Stampler reserves her sharpest words for "the system" that Mr Nadella says will take care of female workers.
"Unfortunately, that system that Nadella wants women to put all their blind trust in only provides them with 78 cents to the dollar of what men earn. And if we look closer at the women Nadella was specifically addressing, the reality is fairly grim: a gender pay gap exists on every level of Stem [science, technology and maths] jobs. In Silicon Valley, men with bachelor's degrees earn 40% more than their female educational counterparts,"
She goes on to say that some technology companies have even taken advantage of the assumption that women are paid less. She tells the story of start-up founder Evan Thornley, who said earlier this year that a perk of hiring women is that their salary is still "relatively cheap compared to what we would've had to pay someone less good of a different gender".
As the outrage grew, Mr Nadella backtracked late Thursday afternoon, tweeting: "Was inarticulate re how women should ask for raise. Our industry must close gender pay gap so a raise is not needed because of a bias."
He reiterated the idea an hour later in an email to employees, saying he believes men and women should get equal pay for equal work.
"I answered that question completely wrong," he writes. "Without a doubt, I wholeheartedly support programmes at Microsoft and in the industry that bring more women into technology and close the pay gap. I believe men and women should get equal pay for equal work."
That doesn't fly for Nicole Kobie of the PC Pro Blog, however. She points that Mr Nadella, as CEO of one of the 10 biggest technology companies in the world, has a unique ability within the industry to close the gap - and it's not by tweeting about it.
"Want to close the pay gap? Here's what to do: examine the salaries of women and men at Microsoft in comparable jobs," she writes. "Does there seem to be a gap? No. Awesome; issue a press release about how wonderful you are. But if there is a pay gap? Fix it. Pay them more."
In fact, just days before the keynote address, Microsoft released data about its staff diversity. Time magazine's Charlotte Alter uses those numbers to show that at Microsoft, like many tech companies, a pay gap is not the only discrepancy between men and women.
"Microsoft's leadership is only 17.3% female," she writes. At the same time, "women make up less than 30% of the entire company as a whole."
Thanks to its CEO's remarks, Microsoft suddenly has become the poster child for what critics see as a larger issue of disparate pay in the technology sector and beyond. With the spotlight fixed on the computing giant, we'll see if it has any good karma left.
(By Micah Luxen)