Governor races a dark cloud for Democratic 2016 outlook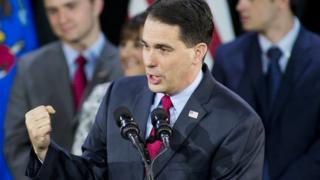 This is what a rout looks like.
As was mostly expected, the Republican Party won enough Senate seats to take control of the upper chamber of Congress, although across the board the margins of victory were larger than pre-election polls had indicated.
Beneath the Senate wave, however, there was another more surprising conservative surge. In governor race after governor race, Democrats went down to defeat.
President Barack Obama had predicted that his party wouldn't do well on Tuesday, thanks largely to many of the Senate races being located in conservative leaning states.
"There are a lot of states that are being contested where they just tend to tilt Republican," he said in a radio interview.
Such was not the case in the governor contests, however. Elections were held in nine states that President Barack Obama carried in both of his presidential races, and Republicans prevailed in eight of them.
The results will have significant implications not just for how those states are governed, but for the shape of the electoral map and the personalities involved as the 2016 presidential race gears up in the coming months.
In national battleground states like Florida, Maine, Ohio, Michigan, New Mexico and Wisconsin, incumbent Republicans carried the day. Democrat Gov Pat Quinn was defeated in Barack Obama's home state of Illinois, while solidly Democratic Maryland and Massachusetts both elected Republicans to open seats.
The sole bits of silver lining for Democrats come from Pennsylvania, where Tom Wolf defeated deeply unpopular incumbent Republican Tom Corbett, and Colorado, as incumbent Gov John Hickenlooper eked out a narrow win.
In Connecticut the Democratic incumbent holds a slight lead, while Republican Gov Sean Parnell in Alaska trails an independent candidate - but these races have yet to be decided.
"These results aren't about terrain or candidates," writes Talking Points Memo's Josh Marshall. "They're about the national political climate." And the climate, he says, is decidedly anti-Democrat.
In the days leading up to the election, Democrats attempted to minimise their potential losses by claiming that voters were angry at incumbents across the board, writes Vox's Matthew Yglesias. But given the governor results, he says, that just isn't the case.
"Right now, the country isn't happy with the Democratic Party or its leader," he says.
The Daily Beast's Ben Jacobs identifies the Maryland race as the biggest upset, calling Republican candidate Larry Hogan unimpressive. He says the Democrat, Lieutenant Governor Anthony Brown, was equally uninspiring, however.
"In a wave election for the GOP where Democrats weren't able to energise their base, that was enough."
The election results were an endorsement of state-level conservative policies, writes the National Review's Patrick Brennan. Wisconsin's Scott Walker and Rick Snyder in Michigan backed anti-union reforms. Rick Scott in Florida supported changes to education funding and food stamps, while Maine's Paul LePage cut welfare programmes.
"The fact that gubernatorial races are turning out as well as the Senate is nice news - they didn't get to run against President Obama, and a lot of them had policies to defend personally," he writes.
He also identifies Sam Brownback in Kansas as a surprise winner. The incumbent had endorsed such a rigorous tax-cutting policy that "he actually probably did some damage to the state's fiscal status", Brennan writes, "and he certainly angered a large number of his own party members".
With the 2014 mid-term elections now largely in the books, attention will turn quickly to the 2016 presidential contest, with the nominating primaries set to begin in a little over a year.
And again, while the much-talked about Senate races will be important in determining the agenda in Washington for the next two years, it's results at the state level where the impact will really be felt.
First and foremost, Mr Walker's win in Wisconsin likely vaults him to the top tier of Republican presidential contenders.
The Washington Examiner's Philip Klein says the governor's win ensures he will be seen as one of the few Republicans who can unite the party.
"His fight for limited government reforms in the face of a ferocious assault from national liberals endeared him to activists on the right," he writes. "At the same time, his ability to successfully govern and get re-elected in a blue state is comforting to establishment Republicans."
Although his re-election featured considerably less drama, John Kasich's 30-point win in Ohio means he is also well positioned for a presidential run.
"I think there's been no bigger winner this year in 2016 presidential politics on the Republican side than John Kasich," NBC political director Chuck Todd said Tuesday night. "I think the Republican Party nationally would like to nominate a governor."
New Jersey Gov Chris Christie also will likely see his presidential hopes boosted by the state-level success on Tuesday. As head of the Republican Governors Association, he vigorously campaigned across the US for his party's candidates.
"On the campaign trail, Christie has built relationships with Republican candidates - and their retinue of donors, local politicians and volunteers - which could come in handy in getting out the vote come 2016," write Matt Arco and Claude Brodesser-Akner for NJ.com.
There was also a big loser in yesterday's elections, Maryland Gov Martin O'Malley. Although like Mr Christie he wasn't on the ballot, his handpicked successor - Mr Brown - was. Mr O'Malley always has been considered a long-shot presidential aspirant, particularly if Hillary Clinton runs, but those odds just went from long to astronomical, as Mr Brown's defeat is being attributed in part to O'Malley-backed tax increases.
Beyond the individual presidential hopefuls, Republican control of the governor mansions in key swing states also likely provides a boost for whoever the party's nominee is come 2016.
Governors have built-in political apparatus that can help with presidential campaigns, and control over the levers of power can come in handy in tight contests. In 2000, for instance, Republican George W Bush benefited from Republican control of Florida during the state's post-election recount drama.
The path to the presidency leads through states like Florida, Wisconsin, Michigan, Iowa and Ohio. Tuesday showed that Republicans can govern and be re-elected in these states.
Although the demographics of the electoral becomes friendlier to Democrats with the higher turnout in presidential years, Republicans today can't help but look to 2016 with a renewed sense of optimism after Tuesday's results.