Long knives for Obama's confidante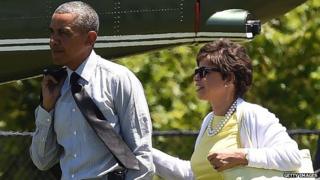 If a president's party takes a beating during a mid-term election, there's usually a price to pay. Heads roll - just ask Donald Rumsfeld, who was cashiered as defence secretary shortly after President George W Bush lost control of Congress in 2006.
Given that the 2006 election turned on perceptions of failings in the Iraq War, of which Mr Rumsfeld was a prime architect, his dismissal seemed obvious. But what to make of President Barack Obama's culpability in last week's Democratic rout?
One of the main criticisms of the president leading up to the vote was that his alleged aloofness and organisational difficulties within the White House had led to muddled messaging and poor handling of issues like the rise of the Islamic State in Iraq, the Ebola outbreak in Africa, the rollout of the healthcare.gov website and the BP oil spill.
Given these concerns, several different writers have targeted presidential advisor Valarie Jarrett as part of the problem. Ms Jarrett, a long-time friend of the president, is considered a key gatekeeper to Mr Obama's inner circle and a central, behind-the-scenes player in virtually all White House operations.
In the latest issue of the New Republic, Noam Scheiber offers a lengthy, often critical, profile of the presidential confidante. He outlines what detractors are saying about her - to which he adds that there is "an element of truth":
"They complain that she has too much control over who sees the president. That she skews his decision-making with her after-hours visits. That she is an incorrigible yes-woman. That she has, in effect, become the chief architect of his very prominent and occasionally suffocating bubble."
Early in Mr Obama's presidency, Scheiber says, Ms Jarrett served a needed role of balancing dissenting views from strong personalities like Treasury Secretary Lawrence Summers, Chief of Staff Rahm Emanuel and Press Secretary Robert Gibbs. Over the course of the Obama administration, however, their positions have been filled by Jarrett allies.
"As Jarrett has outlasted her rivals, it has increasingly fallen on her to do more than simply protect Obama from those who might undermine his presidency," he writes. "She must nudge him when he becomes self-satisfied and rein in his worst political impulses. It is a position for which she is uniquely unqualified."
He criticises Ms Jarrett's tendency to hold a grudge and punish those whom she views as enemies. He speaks with activists within the Democratic Party who say - anonymously - that she often is too dictatorial in her communications with them. He talks with others who say she is too conciliatory toward "big shots, corporate or otherwise".
Scheiber concludes that Ms Jarrett - and by extension Mr Obama - are "board room liberals", more inclined to insider manoeuvring than populist confrontations.
"The picture of the boardroom liberal is a corporate CEO handing a refrigerator-sized check to the head of a charity at a celebrity golf tournament," he writes. "All the better if they're surrounded by minority children and struggling moms."
In a functional White House, there would be differing opinions that would push the president out of his board-room bunker and make him a more outspoken - sometimes confrontational - defender of liberal priorities.
Scheiber does everything but say Ms Jarrett has to go - a conclusion that author Carol Felsenthal has no reluctance voicing.
"Push her into the East Wing, where she can hang out with Michelle Obama and the White House social secretary, or give her an ambassadorship - or something - but for Pete's sake get her out of the way of the hard work of governing that needs to be done," she writes for Politico Magazine.
She says Ms Jarrett's inability to handle the "levers of bureaucracy" has come at a high political cost. Someone with more governmental experience and a better political touch could be much more effective in the White House space she currently occupies.
On the right, the Federalist's Ben Domenech takes glee in what he sees as the left's realisation that the populist promise of Mr Obama's presidency has been lost - and that the betrayal has come from within.
"Jarrett looks exactly like what the left claimed [Mr Bush's Vice-President] Dick Cheney was: dealmaker, corporatist and the real administrative power behind a shallow and uninterested figurehead president, who's just relieved he doesn't have to answer to those progressives anymore," he writes.
Time will tell whether the recent attacks on Ms Jarrett gain any traction. It seems difficult to imagine the president ditching his long-time friend in any sort of public way.
Indeed, the pushback against the recent attacks has already begun.
MSNBC's Mika Brzezinski says the attacks on Ms Jarrett are motivated by sexism and jealousy.
She compares Ms Jarrett to Bush presidential advisors Condoleezza Rice and Karen Hughes, who she says were also the target of "hostile and catty criticism".
She cites Ms Jarrett's efforts to increase the minimum wage, combat sexual assault and promote equal pay as key successes.
"If Valerie is really to blame for Democrats who stupidly ran away from Barack Obama's accomplishments during their 2014 campaign, then maybe she should also get some credit for the historic accomplishments President Obama has achieved," she concludes.
Those accomplishments did little to get liberal voters to the polls last week, resulting in a Republican near-sweep of every key race.
Politics dictates that Democratic anger can't be directed toward an embattled president who needs all the liberal support he can muster to face down what will be strong conservative opposition over the next two years.
A behind-the-scenes advisor, on the other hand, may be a suitable proxy for the president's critics. Whether she is to blame or not, many appear to consider her expendable.
The question is, does Mr Obama agree?