The day her family wasn't there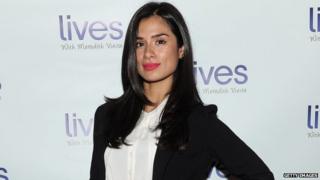 Months before President Barack Obama's decisive immigration reform move, actress Diane Guerrero was writing early drafts of an essay on how US deportation policy had changed her life.
Now her emotional story, published in the Los Angeles Times shortly before Thursday's White House announcement, has made her a recognisable face late in the game.
In an interview with the BBC, Guerrero, best known for her roles as Maritza Ramos in Orange is the New Black and Lina in Jane the Virgin, said early versions of her piece had almost no personal details.
"For the longest time, I know I avoided it," she said. "I think my whole life I've been avoiding the issue because it's so difficult to revisit."
The pain comes from the day a 14-year-old Guerrero came home from school to an empty house.
Neighbours later told her that both her parents and her older brother had been taken by immigration officers who eventually sent her family back to Colombia. The lights in her house were on and dinner had already been started, but from that day on Guerrero had only herself to rely on.
"Not a single person at any level of government took any note of me," she writes in the Times. "No one checked to see if I had a place to live or food to eat, and at 14, I found myself basically on my own."
She says that she was lucky because she was able to rely on the kindness of friends and has found so much success. But, she adds, there are many children separated from their families whose stories look nothing like hers - even within her own family.
When her brother was deported, he was forced to leave his daughter, a toddler, behind. Growing up in a single-parent family, she says, her niece made bad choices in the face of many challenges.
"Today she is serving time in jail, living the reality that I act out on screen," Guerrero writes.
Guerrero says she's seen a flood of responses, both negative and positive, in the wake of her article. Much of the praise has come from people in similar situations who have adapted to life without family members - and even from those who simply lost a parent at a young age.
Guerrero says one woman told her the article was the inspiration behind a decision to volunteer with the pro-immigration reform cause.
Not all of the responses have been positive, however. Guerrero says it's understandable - but still sometimes hurts to hear.
"I for one think that everyone is entitled to their opinion, but some of the comments are very one-sided and not very well balanced," she said. "But I feel like I'm doing this for that very reason, to try and change people's minds."
HotAir's Jazz Shaw writes that Guerrero's story is sad and she was definitely let down - but her parents, not government, is to blame.
Shaw tells the story of a high school friend whose mother died when he was very young and whose father was arrested for embezzling money. He writes that his friend, Eddie, lived with relatives until he graduated.
One of the things Guerrero and Eddie have in common is that their parents were both criminals, Shaw writes.
"If you come here illegally you are breaking the law and you run the risk of being caught and dealt with by the legal system," he writes. "Blaming it on some shysters who acted in bad faith is really no excuse."
A follow-up piece to Guerrero's op-ed in the Los Angeles Times says that there were many similar responses among their readership.
One letter to the editor written by Stephanie Caldera says that Guerrero could have been successful if she had followed her parents back to Colombia rather than staying in the US.
Another, by PJ Gendall, argues that allowing Guerrero's family to stay would be unfair to those working to enter the US legally.
Outside of acting, Guerrero works as an ambassador for the Immigrant Legal Resource Center, an organisation that provides legal training and education, as well as works with advocacy organisations.
She says she first got involved after meeting Grisel Ruiz, a law fellow at the organisation, at a Cosmopolitan for Latinas award event earlier this year.
"When I first met Diane, the second I heard her story I felt instantly like it exemplified the community that we work with and the rights we're trying to see advanced," Ruiz told the BBC.
Ruiz said that the president's announcement is a good first step, but she is looking for a more permanent and expansive solution.
"Ultimately there needs to be a permanent fix," Ruiz says.
(By Kierran Petersen)