'Rape culture' investigation shocks Virginia university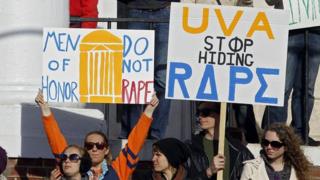 The allegations made in the latest issue of Rolling Stone are shocking. An 18-year-old University of Virginia freshman attends a party at one of the school's oldest fraternities in the fall of 2012. "Jackie", as she is called in the article, is invited upstairs by her date, where she says she is gang raped by seven fraternity brothers.
Jackie didn't go to a hospital after the alleged incident, as her friends decided it would adversely affect her- and their - reputations at the school. In 2013, the story continues, Jackie reported her rape to the head of the school's misconduct board, Nicole Eramo.
Jackie was presented with the choice of going to the police, beginning a formal complaint or having a mediated session where she could confront her alleged attackers.
"Setting aside for a moment the absurdity of a school offering to handle the investigation and adjudication of a felony sex crime - something Title IX requires, but which no university on Earth is equipped to do - the sheer menu of choices, paired with the reassurance that any choice is the right one, often has the end result of coddling the victim into doing nothing," the article's author, Sabrina Rubin Erdely, writes.
Jackie decided she couldn't go forward.
"She badly wants to muster the courage to file criminal charges or even a civil case," Erdley says. "But she's paralysed."
The Rolling Stone story expands beyond the one allegation and its subsequent fallout and looks at how the university has handled suspected rape cases over the past decades - including multiple allegations of gang rapes at the fraternity in question, Phi Kappa Psi.
Last year, the school discloses, there were 38 reports of sexual assault. Nine became formal complaints, and four resulted in misconduct board hearings. "The other 29 students evaporated," Erdely writes.
She adds that 14 students have been found guilty of "sexual misconduct" in the school's history, but none has been expelled. According to Erdely, the most recent student, found to have been responsible for multiple assaults, was suspended for one year.
When Erdely asked university president Teresa Sullivan why the university keeps its rape disciplinary proceedings private, she said it would discourage women from coming forward. Jackie tells Rolling Stone she was told by the dean that it's "because nobody wants to send their daughter to the rape school".
"At UVA, rapes are kept quiet, both by students - who brush off sexual assaults as regrettable but inevitable casualties of their cherished party culture - and by an administration that critics say is less concerned with protecting students than it is with protecting its own reputation from scandal," Erdely writes.
The University of Virginia is one of 86 schools currently under investigation by the Obama administration's Department of Education for their handling of sexual-assault-related complaints. It's also one of 12 schools undergoing a more thorough "compliance review" of its policies for dealing with sexual assault on campus.
Fallout from the Rolling Stone article has been swift. Initially, the school placed Phi Kappa Psi "under investigation". The federal judge originally named to head the inquest was later withdrawn after word spread that he was a member of the fraternity in question.
As outrage mounted, the fraternity voluntarily suspended itself during the proceedings.
In a letter to the Virginia student paper, the fraternity said it had "no specific knowledge" of the magazine's claims, but it would co-operate with authorities.
"Make no mistake, the acts depicted in the article are beyond unacceptable - they are vile and intolerable in our brotherhood, our university community and our society," the letter states.
On Saturday Sullivan announced that she was suspending all fraternity and sorority activities - involving about 3,500 students - until 9 January and calling on the Charlottesville, Virginia, police to investigate Jackie's allegations.
"The wrongs described in Rolling Stone are appalling and have caused all of us to re-examine our responsibility to this community," Ms Sullivan writes in a letter to students. "Rape is an abhorrent crime that has no place in the world, let alone on the campuses and grounds of our nation's colleges and universities."
Hundreds marched in protest on Thursday. On Friday morning, the Z Society - one of the university's six secret societies - left a letter and flowers for students at the university's amphitheatre, where students would later gather.
"We share in our anger and in our concern, but - what's more - we share in the belief that our community can and must evolve," the letter says.
Over the weekend, the Phi Kappa Psi house was vandalised, with windows broken and "UVa Center for Rape Studies" and "Suspend Us" written on the building's wall.
An anonymous letter from individuals claiming responsibility for the attack said the incidents will escalate until the university takes more decisive action - including mandatory expulsion for students found guilty of sexual assault and Eramo's resignation.
"Rape is not a political issue to be negotiated and discussed with an eye towards gradual improvement," they write. "It is a criminal act of violence that cannot be tolerated."
Rolling Stone published a follow-up article on Friday containing excerpts from reader letters to the magazine, including many women who agreed with the assessment that the school fosters a "culture of sexual assault, along with a disdain for those who attempt to report it".
The articles - and the ensuing controversy - has led many to once again question the way US universities deal with sexual assault, and the role the Greek system of fraternities and sororities play on campus and college culture in general.
"The Rolling Stone story reveals a campus culture in which fraternity houses are widely known as places where girls, especially freshman girls (who are too young to get into bars) are invited inside, gotten drunk, and bedded," writes Rod Dreher for the American Conservative.
He compares the university's reaction to that of the Catholic Church after allegations of sexual molestation by priests first began to surface.
"The deeper you read into the story, the more clear it is that the University of Virginia's administration has been absolutely and disgustingly derelict for decades, protecting the reputation of the institution at all costs," he writes.
He concludes that he would never want his children, male or female, from getting involved in the Greek system:
"I do not want my kids, as college students, to be subject to rape, to participate in rape, or to be in a position in which they are pressured to prove their loyalty to their fraternity, their friends, and their university by staying silent about rape."
The university isn't the only one at blame, write the editors of the Roanoke, Virginia, News Leader.
"The seven fraternity brothers who allegedly perpetrated the 2012 rape were almost certainly raised in educated families of economic means," they write. "Their sense of entitlement was likely high. Did any parent or teacher ever spell out to them the immorality and unacceptability of rape?"
The editors of the Roanoke, Virginia, Times call for Virginia Governor Terry McAuliffe to order a state police investigation, rather than relying on a local investigation.
"Cynics could just say the local police have an interest in preserving the reputation of the city's biggest economic driver," they write. "But people would be more inclined to believe state police. Err on the side of trust."
Ms Sullivan's initial reaction to the Rolling Stone article was not nearly strong enough, write the editors of the Charlottesville, VA, Daily Progress.
"For 48 hours, when the community first needed heartfelt reassurance from the university, that engagement was lacking," they write. "In fact, the word that comes to mind throughout this nightmare is 'disconnect.'"
Virginia student Dani Bernstein, writing in the university's student newspaper, says that while Erdely's article exposes the school's deference to fraternities, it paints all Virginia students too broadly.
"We cannot deny there is some pervasive culture here that allows abuses to occur," she writes. "But we have undeniably excellent student groups aimed at addressing this very issue."
The University of Virginia, founded by President Thomas Jefferson, is often called a "public Ivy" - one of the most prestigious schools in the nation, with a tuition price that's considered a bargain compared to similarly respected private institutions.
Now, however, Virginia's reputation - always on the minds of the college's administrators, according to Rolling Stone's report - may be permanently stained.
"This UVa campus rape story is just sickening & should make people question going there," tweets Yahoo News editor Garance Franke-Ruta.