Are Democrats cooling on Hillary Clinton?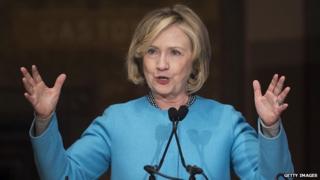 It seems impossible for anyone to talk about the 2016 US presidential election without bringing up Hillary Clinton. With more than 700 days to go, there are no official contenders, but many see her candidacy as a foregone conclusion.
And almost everyone appears to have an opinion on how the non-candidate candidate is doing so far.
In just the past week, commentators have been quick to analyse the political ramifications of the University of California Los Angeles' disclosure of the former secretary of state's $300,000 speaking fee and curious backstage rider requests, which include lemon wedges, hummus and chairs with rectangular pillows. They have dug into her chances of winning back white working-class voters. They have made predictions about her campaigning abilities based on turnout at her book-tour events.
"Anyone who thinks she can come close to inspiring the same amount of enthusiasm among people as Barack Obama is kidding themselves," Andrew Stiles of the conservative Washington Free Beacon writes with barely concealed glee.
One thing that most can agree on is that Clinton is distancing herself from President Barack Obama, just as any other Democratic contender in 2016 will have to do.
Even the president understands the political efficacy of the strategy.
The American people want "that new car smell," he said in an interview with George Stephanopoulos on ABC's This Week. "They want to drive something off the lot that doesn't have as much mileage as me."
But it seems that Democrats may be distancing themselves from Ms Clinton as well.
In a television interview with Meet the Press's Chuck Todd, Massachusetts Governor Deval Patrick said that Ms Clinton is acting like she's already the party's sure-fire nominee - an attitude that is off-putting to voters.
"I don't mean that as a criticism of her, I just think that people read inevitability as entitlement," he said. "And the American people want, and ought to want, their candidates to sweat for the job, to actually make a case for why they're the right person at the right time."
Ms Clinton likely will not run unopposed, if she chooses to run at all. Former Virginia Senator Jim Webb already announced last month that he has launched an exploratory committee for a possible 2016 run.
While Mr Webb would be a long-shot given his lack of resources and name recognition, he could provide a contrasting point of view - and that's just what the editors of the Nation want to see.
They argue that today's political landscape is steered by deep-pocketed donors and powerful media outlets, rather than by a genuine clash of ideas. Today the best-case scenario is a watered-down candidate who is acceptable to the rich and the loud, they say. The only way to break away from the norm is to challenge the front-runners and question the basic assumptions about what politics can accomplish.
"Even the most ardent Hillary supporters should acknowledge that the Democratic Party, and the country, will be better served if she has real competition in the primaries," they write. "This is not an anti-Hillary message; it's a pro-democracy one."
Mr Webb could be just the type of competition they're looking for. Unburdened by ties to Washington or Wall Street and with a powerful military background, he could turn into "Hillary Clinton's worst nightmare", as Al Hunt, writing for Bloomberg View, describes him.
Ms Clinton's standing is such that some are wondering if she's even going to run at all. Political forecaster Charlie Cook puts those odds at 60-70%.
FiveThirtyEight's Harry Enten takes note and writes that Ms Clinton may be dissuaded from joining the race because she isn't perceived to be invincible anymore, and it looks more and more like the 2016 electorate will be Republican-leaning. He points to Ms Clinton's recent favourability ratings, which have been faltering since she left her Obama administration post. Still, he says, a lot of things could happen between now and Election Day.
"Clinton, however, no longer looks like such a juggernaut," he writes. "Not only are her numbers dropping, but she is running on par with a Democratic brand in its weakest shape in a decade."
More than that, an online survey conducted by FiveThirtyEight finds numerous Star Wars characters - including villains Darth Vader - have higher approval ratings than the former first lady.
Of course they - and Ms Clinton - poll better than any of the prospective Republican candidates, including Republicans Mike Huckabee, Rand Paul and Marco Rubio.
The shine may be coming off Ms Clinton's star, but she doesn't have to be universally loved. She just has to be the preferred option to whoever else is on the ballot with her.
As the New Yorker's Ryan Lizza observes, every Democratic front-runner for the past five decades has had a moment where they've faltered. The party's primary voters are a notoriously fickle bunch, who often latch onto the unknown dark horse - at least for a while.
"Democratic voters often like to flirt with other candidates in the primary, before the arranged marriage is made," he writes.
Despite her apparent struggles, Ms Clinton is still decidedly the front-runner - at least until Darth Vader's 2016 intentions are revealed,
(By Kierran Petersen)