New York killings: The price of 'anti-police' rhetoric?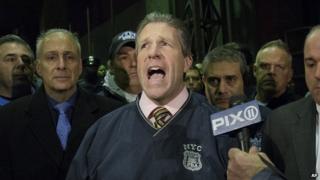 Following the murder of two police officers by a man who had posted anti-police messages and protest hashtags in the hours before the assault, relations between the police and activists in New York City have gone from bad to worse. The ripple effects are being felt around the US.
At the centre of the storm is New York City Mayor Bill de Blasio, who has been heralded as a populist torch-bearer since his election in November 2013.
The mayor had previously expressed solidarity with protesters who had taken to the streets after a police officer was not indicted for the death of Eric Garner.
And he had publicly wondered if his biracial son was safe from police - rhetoric some are now arguing helped to create an environment that encourages violence against police.
"There's blood on many hands tonight," said Patrick Lynch, president of Patrolmen's Benevolent Association, a New York police union. "That blood on the hands starts on the steps of City Hall, in the office of the mayor."
The anger was amplified by former New York Governor George Pataki, who called the shootings a "predictable outcome of divisive anti-cop rhetoric" by Mr De Blasio and US Attorney General Eric Holder.
On Sunday night some police officers turned their backs on the mayor in silent protest as he walked to a press conference. It was a gesture that Mike Lupica of the New York Daily News says shows the gravity of the crisis.
"The mayor has to understand that if he does not step up and step forward now and admit mistakes he has made with the NYPD because of his obsession with playing to his base, then the image of those cops turning their backs on him will be a part of his permanent record," he writes.
Mr de Blasio "lit the fuse" that led to the shootings, writes the New York Post's Michael Goodwin.
"Again and again, he depicted the great and gallant NYPD as an occupying army of racist brutes," he writes.
A mayor is either with the police or against them, he says. "That fact is nowhere to be found in the progressive playbook, which sees everything through race and class," he continues. "But it is how the real world works."
Former New York City Police Commissioner Howard Safir, writing for Time magazine, says there currently exists "an atmosphere of permissiveness and anti-police rhetoric unlike any that I have seen in 45 years in law enforcement".
He warns that if police aren't supported it could lead to a return to a time in New York City when "gangs controlled the streets" and car theft and murders were rampant.
"I know this can happen again in spite of the sacrifice of hundreds of police officers who have given their lives while reducing violent crime across this country to historic lows," he writes.
Due to the shooting, the framework over the debate about race issues and law enforcement has, at least for the moment, flipped, as police critics go on the defensive.
The editors of New York's Newsday say that Mr de Blasio isn't to blame for the current animosity between police and city residents, but it's his problem to fix.
"The NYPD's fraught relationship with many minority communities was simmering long before he took office," they write. "Yet now - in a city that is 44% white, 26% black and 27% Hispanic - this is his problem to fix."
"There is a yawning gap between the kind of reforms demanded by De Blasio and the protesters, and open hostility to police," writes the New Republic's Claire Groden. "Hundreds of deaths caused by police officers have gone unreported in federal statistics since 2007. Overly aggressive policing - such as the stop-and-frisk policies that de Blasio made a point of reforming - victimises minorities across the country."
Activist and former basketball star Kareem Abdul-Jabaar calls the recent rhetoric a cynical ploy.
"This shrill cry of 'policism' (a form of reverse racism) by Pataki and the police unions is a hollow and false whine born of financial self-interest (unions) or party politics (Republican Pataki besmirching Democrat De Blasio) rather than social justice," he writes in Time magazine. "These tragic murders now become a bargaining chip in whatever contract negotiations or political aspirations they have."
Will Bunch of the Philadelphia Daily News says people like Mr Pataki and the police union leaders are "the usual array of bottom feeders" looking to turn the police murders into political advantage.
Mr de Blasio's "biggest crime", he says, "apparently was telling his black son to be extra sure to do what the officer says when he's stopped".
Although protesters and police appear to be on opposite sides, he says, they really want the same thing: "A less violent America where police are safe ... and so are citizens."
The challenge, he continues, is figuring out "how to get there".
"This is a time when all Americans who want a more just, and less violent society, need to speak up more loudly than ever, and fight harder for what they believe in," he concludes.
That fight, however, is becoming more and more difficult. Police in New York City and elsewhere feel threatened and unsupported.
Law-enforcement unions in places like Cleveland and St Louis have become increasingly outspoken in their condemnation of the protest movements and what they see as an ungrateful public.
Meanwhile, protesters continue to take to the street to decry the recent high-profile incidents in which unarmed blacks have been killed in confrontations with police. They see it as representative of a larger problem of police unaccountability and a law-enforcement system that is inherently suspicious of black Americans.
It's creating a toxic mix of fear and resentment that shows no signs of abating.
"If you wanted to articulate what the worst-case scenario could be at a time when the city is trying to get back on track with police and community relations," said New York City Councilman Robert Cornegy, "this is it."
As the rhetoric sharpens and the anger grows, however, the real danger is not that this is the worst-case scenario. It's that it isn't.