US-Cuba deal: Latin America's 'Berlin Wall moment'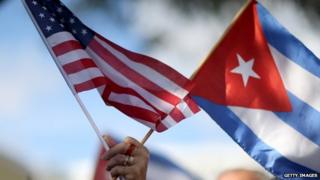 The decision by the United States and Cuba to normalise their diplomatic relationship after five decades of animosity was long-awaited news for many Latin Americans, and one they have widely debated since it became a reality.
Political leaders across the region haven't hesitated to highlight the historic nature of last week's announcement - and, perhaps more importantly, to stress how it could transcend Cuba and the US, affecting the whole hemisphere.
Brazilian President Dilma Rousseff hailed it as a "civilisational change", Peru's Ollanta Humala said it was a "key, historic and brave" move that would help integrate Latin America, while Mexico's Enrique Pena Nieto described it as "decisive".
More remarkably, even Latin American leaders who are critical of the United States praised President Barack Obama.
Only on rare occasions, for instance, does Venezuelan President Nicolas Maduro use positive adjectives to describe his American counterpart, and this was one of them.
He called it "a courageous gesture and a necessary one in history", adding that this was "probably Mr Obama's most important move as president".
Mr Maduro's comments were particularly surprising, given that they came against the backdrop of the US Congress imposing sanctions on Venezuelan officials accused of human rights abuses during the anti-government protests at the beginning of the year.
The bill, which Mr Obama signed into law the day after his Cuba announcement, was vehemently criticised by Venezuelan officials, who said the US was meddling in the country's internal affairs. It prompted a march on the streets of Caracas by government supporters.
Far from the political arena, news of the rapprochement also became a hot topic on social media, and it is still being discussed today on Spanish-language news outlets.
The US president's speech lasted 15 minutes and had more than 2,000 words, but a handful of them - spoken in Spanish - resonated particularly in Latin America.
"Todos somos americanos" (We're all Americans), he said. And, "No es facil" (it's not easy).
Many outlets reprinted the sentences word-for-word, even on their front covers, and pointed to the significance of a US leader trying to reach out to a historical rival, Cuba - and arguably to Latin America as well - by briefly using the region's predominant language.
Political commentators have described 17 December (shortened to the Twitter hashtag #17D) as an "unforgettable" day, the beginning of "a new era".
Colombian journalist Juan Carlos Iragorri called it the moment "Latin America's Berlin Wall" fell.
Special praise was also directed at Pope Francis, the Argentinian who is a towering figure in a predominantly Catholic region and helped mediate the talks.
Ecuadorean President Rafael Correa even likened the deal to a religious miracle performed by the pontiff.
The reaction hasn't been entirely rosy, however, as some commentators have raised questions about the concrete changes Cuba will have to go through as part of this new reality.
Popular Cuban blogger Yusnaby Perez, who is critical of the Cuban government, viewed to the news with scepticism and said he feared human rights issues could get forgotten.
"Uncertainty, this is all I see in my neighbours regarding the news about Cuba and the United States," he tweeted in Spanish.
He added: "Cuba is entering unchartered territory."
There were also many questions about the effects the deal could have in other parts of the region. The animosity between Cuba and the US has been one of the defining issues in hemispheric relations ever since bilateral ties were severed in 1961.
Alvaro Uribe Velez, a former Colombian president, quickly linked the announcement to the peace process that is being held in Havana between the Colombian government and leftist FARC rebels, of which he is staunchly critical.
"No decision by the US and Cuba should let us agree to Castroism imposing a government by FARC terrorists," Mr Uribe writes.
There has also been a wealth of comments, articles and cartoons discussing the possible effects on Venezuela, which has been Cuba's biggest regional ally, especially since the late Hugo Chavez came to power in 1999. The political and economic alliance between the two countries has been based to a large extent on their shared opposition towards Washington.
Will Venezuela follow Cuba in trying to get closer to the White House? Or will it now replace Havana as the region's main US adversary?
These are just two of the questions being asked in the region, whose population now appears to be particularly interested in seeing how Washington and Havana's plans will play out.
Like the fall of the Berlin Wall, the US-Cuba rapprochement has been a cause for widespread regional celebration. As with the ground-shifting events of 1989, however, even the most welcome news can be fraught with new challenges and possible peril.