Was Pharrell's Grammy shorts-suit too casual?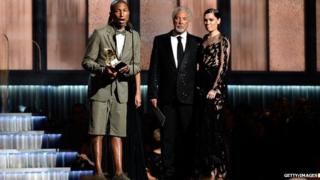 Another year, another round of discussion over the wardrobe choices of pop musician Pharrell Williams at the Grammys.
In 2014 it was the hat that generated the heat. Where did he get it? Was it inspired by a Canadian Mountie or the logo from the fast-food chain Arby's? Was he hiding something underneath its prodigious aperture?
On Sunday, however, the musician returned to what can only be called a style crusade for him - the shorts-suit. Business on top and casual down below, Pharrell first sported the unusual pairing at last February's Academy Awards. Now the wardrobe is back, with a twist - a 3M designed fabric that made the grey cloth appear bright white when illuminated by a photographer's flash.
Early reaction from the celebrity-fashion world ranged from quiet acceptance to disappointed tut-tutting.
"Pharrell has gone and taken the athleisure movement to new, red carpet-ready heights," writes InStyle's Andrea Cheng.
Bustle's Sara Tan was less circumspect.
"It looks a bit like Pharrell just threw on a suit jacket over his gym outfit, amirite?" she says. "Maybe it's the Adidas stripes on the side or the fact that he's just wearing shorts with a suit jacket, but something about those bottoms are just a bit underwhelming for the Grammys."
On Twitter, the response trended more toward outright mockery.
"Pharrell is like a middle school kid in Michigan who wears shorts all winter just to prove he can," tweets Erika W Smith, features editor of Fashion & Style.
HollywoodLife editor Bonnie Fuller writes: "Pharrell's in a shorts suit again. Looks like he's ready for cricket."
Eva Chen, editor of the fashion magazine Lucky, wondered if this meant she would be able to wear Adidas tracksuit trousers to New York Fashion Week.
The recent round of discussions sparked by Pharrell's sartorial choices recall a debate that took place last summer with the rise of commercially offered short-suits from retailers like J Crew and Barneys.
Writing in Deadspin, Alberto Burneko asserted that combining shorts and formal attire made the wearer look like Little Lord Fauntleroy.
"Shorts embody a choice of comfort over fanciness (even when they look OK, as they do on dudes with toned calves and slim ankles); the suit, by its design, says I have chosen to be uncomfortable for the sake of propriety," he writes. "It is a bad look for bad people with bad clothing opinions."
Bloomberg's Kyle Stock writes that the combination of shorts and jacket is "equal parts business and schoolboy".
"Functionally, it's both breezy and stifling," he wrote, "and socks are a no-no, unless they go up to one's knees."
Let the record show that on Sunday Pharrell wore his outfit with no socks whatsoever.
Esquire's style tips offered a verdict that was much less accommodating.
"Unless you're at a wedding in Bermuda, don't even think about wearing shorts with a blazer," they curtly conclude. "If an event is formal enough for a blazer, it's formal enough for pants."
When asked on the Grammy red carpet to explain his fashion choice, Pharrell said: "I usually wear shorts. That's just like my thing."
Well, whatever makes him happy.