Scott Walker: A little-known 2016 frontrunner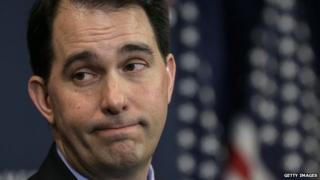 Wisconsin Governor Scott Walker may be little known beyond his home state and among the more politically attuned in the US public, but he's starting to emerge as a possible force in the race for the 2016 Republican presidential nomination.
The governor jetted off to London this week to meet Prime Minister David Cameron and give a speech on global economics at Chatham House riding a wave of good publicity, encouraging polls and positive chatter among conservative talking heads.
Last week a Bloomberg-Des Moines Register survey of Iowa Republicans revealed that Mr Walker had surged to the top among those rumoured to be interested in their party's presidential nomination. The opinion of Iowans is particularly important, as their state will be the first to hold caucuses next year to determine the nominee.
The results were far from decisive - Mr Walker garnered 15%, compared with Senator Rand Paul's 14% and former Arkansas Governor Mike Huckabee at 10%. In New Hampshire, which holds its primary a week after Iowa votes, a new poll puts Mr Walker in third, a few percentage points behind Mr Paul and former Florida Governor Jeb Bush.
Coming on the heels of a well-received speech to party faithful at an Iowa event in January that included more than a dozen possible candidates, however, it was more than enough to send the Walker hype balloon skyward.
Rush Limbaugh, a conservative kingmaker of sorts, has made trumpeting Mr Walker a veritable pastime recently. In the past two weeks, according to a tally by the National Journal, the conservative radio host has mentioned the governor's name more than 200 times.
The fortunes of presidential aspirants rise and fall, of course, particularly this early in the process. Four years ago the fickle tastes of Republican voters boosted and then dashed the hopes of a grab-bag of previously obscure candidates. Behind Mr Walker's recent surge, however, is a substance that could give him electoral staying power.
First and foremost, primary voters - across the political spectrum - love governors. As the titular head of their states, they wield executive power that allows them to take firm stands and avoid the often muddled voting records compiled by legislators in the US Congress.
Mr Walker, in particular, has been particularly authoritative in office, as he moved quickly to advance a distinctly conservative agenda after being elected in 2010. He became a favourite of grass-root Tea Party conservatives and anathema to his state's progressives for pushing to curtail the collective bargaining rights of teachers' unions and state employees, enacting new voter identification laws and cutting public funding for Planned Parenthood.
"Walker has made a short career out of defeating Democrats, despite pushing polarising policies that should alarm middle and working-class voters," writes Keith Brekhus of the liberal website PoliticusUSA. "He is one candidate Democrats cannot afford to underestimate."
The anti-Walker sentiment among the left was so fierce that it gave birth to a 2012 recall effort to remove the governor from office before the end of his four-year term. A statewide vote retained Mr Walker, 53% to 46%, however. The governor then went on to win re-election to a second term last November by a slightly smaller margin, despite running against a well-funded, popular Democratic opponent.
---
Possible 2016 opponents
No-one has formally declared but these are some of the names to watch:
early Republican frontrunner is Jeb Bush
but New Jersey Governor Chris Christie could battle Bush for the party's centre ground
darling of the Tea Party is Texas Senator Ted Cruz
firebrand liberal Elizabeth Warren is championed by many in the Democratic Party
libertarian Rand Paul has his supporters - and enemies - among Republicans
Hillary Clinton will have learnt much from her failed campaign of 2008
---
A record as an unabashed conservative who has won multiple elections in a left-leaning state like Wisconsin, which hasn't voted for a Republican in a presidential election since 1984, is the type of resume bullet point no other presidential aspirant can boast.
Mr Walker has "the blueprint for the Republican Party if they are serious about beating the left," Mr Limbaugh said in one of his praise-fests.
All this has helped Mr Walker garner a perception as a fusion candidate who can gulf the divide between his party's establishment and Tea Party wings. He's also an evangelical Christian, the son of an Iowa minister, which will appeal to the party's socially conservative voters.
"If you're Jeb Bush, [Rand] Paul, Ted Cruz or one of the other candidates - official and unofficial - Walker should have you worried," writes the National Review's Jonah Goldberg. "With the arguable exceptions of [Florida] Senator Marco Rubio and [Louisiana] Governor Bobby Jindal, right now most of the field is made up of boutique flavours, intensely popular among some, intensely unpopular among others."
All these positive attributes, combined with his poll performance, has allowed Mr Walker to begin building a campaign team and attracting the kind of big-money fundraisers who can keep a candidate in the black for the long haul.
According to the Washington Post's Matea Gold, Mr Walker raised almost $83m for his state-level races over the past four years - "an eye-popping sum for a governor of a modest-size Midwestern state".
The governor is not without his weaknesses, of course. Despite his standing-ovation performance in Iowa last month, he's not considered a compelling public orator. And speaking of resumes, his comes with a college-degree-sized hole. He dropped out of Marquette University in his fourth year before completing his diploma requirements.
He has also flirted with scandal while in office. Six of his aides have been convicted on charges ranging from embezzlement and money laundering to campaign finance infractions.
Then there's the down side of being a fusion candidate. Without an established base of support, he could end up angering one - or both - sides of the Republican Party's establishment-grassroots divide.
Already signs of strain are showing on issues like immigration, where Mr Walker has drawn fire from hardcore conservatives who see his current position as too permissive.
"He has tried to use the nebulousness of buzzwords like 'amnesty' and 'pathway to citizenship' - which can be used interchangeably or to differentiate between policies, depending on the speaker - to his advantage," writes the National Review's Andrew Johnson.
When Mr Walker returns from London later this week, he will also have to confront the sharper media focus that comes with the perception of being a possible front-running candidate. In what perhaps is both a reflection of his new status and a portent of things to come, the New York Times last week editorialised against the governor, condemning his proposed 13% cut in state funding for the University of Wisconsin system.
"It is hard to see such a clumsy attack on education going far with a general electorate concerned about their children's chances in life," they write.
While Mr Walker has beaten his in-state opponents and captured the attention of Republican Party activists, the air becomes thinner the farther up the electoral mountain a candidate climbs. Can he keep his footing?