Oregon Governor John Kitzhaber resigns amid scandal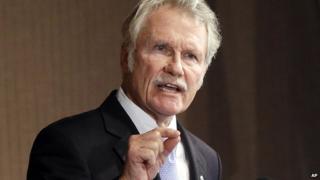 He was set to become the second-longest serving governor in US history at the end of his term. Now, he's just another disgraced politician trying to pick up the pieces of a shattered career in public office.
Oregon Governor John Kitzhaber isn't a household name in most of the US, but for three decades the Democrat had been an influential figure in the state. He served as Oregon's Senate president and then as governor from 1995 to 2003 and again from 2010 to Friday, when he announced he will resign.
"I have always had the deepest respect for the remarkable institution that is the Oregon legislature; and for the office of the Governor," Mr Kitzhaber said in a statement. "And I cannot in good conscience continue to be the element that undermines it. I have always tried to do the right thing and now the right thing to do is to step aside."
Mr Kitzhaber's fall was as quick as it was surprising. The proximate cause of his undoing was the activities of his fiancee, Cylvia Hayes, a clean-energy consultant who is being investigated for using her connections to the governor to attract new clients for her business. She has also been accused of misusing state funds, failure to disclose income to the Internal Revenue Service and receiving $5,000 in exchange for marrying an 18-year-old Ethiopian who wanted to obtain permanent US residency.
Much of this was known before Mr Kitzhaber was re-elected to a fourth term in office last November, but pressure on the governor mounted in the past few weeks following the revelation that two of the governor's aides arranged for Ms Hayes to land paying jobs with companies with interests in state energy policy.
Last Wednesday the Oregonian - the state's largest newspaper, based in Portland - called on the governor to resign, as did several prominent state Democratic leaders.
"Whether through gross inattention or complicity, Kitzhaber has broken faith with Oregonians," the paper's editors wrote. "His career in Oregon politics is one of great accomplishment, but his past success does not excuse the mess he has made of the office with which Oregonians entrusted him. He is now less a governor than a source of unending distraction. He can no longer lead Oregon effectively and should resign."
With Mr Kitzhaber's resignation, Oregon Secretary of State Kate Brown will become the state's governor and serve until 2016, when a new election will be held for the remainder of Mr Kitzhaber's term. She has garnered particular attention in this episode because she will become the first openly bisexual governor in US history.
Ms Brown, who was elected to her second four-year term as secretary of state in 2012, had travelled to Oregon from a conference in Washington, DC, on Wednesday and met with Mr Kitzhaber, who told her at the time he was "not resigning".
"This is clearly a bizarre and unprecedented situation," she said in a statement.
That much is certainly true.
The Altantic's David A Graham calls it a "picaresque tale of ethics, money, romance and betrayal, plus good old-fashioned power politics". More than that, however, he says it "raises interesting questions on how political spouses are treated and scapegoated, and how the media would treat the scandal if it happened on the East Coast - or in a Republican-led state".
The Kitzhaber saga recalls the recent downfall of Virginia Governor Bob McDonnell, who was recently sentenced to two years in prison for ethical violations involving his wife and a prominent campaign donor.
That story, and its tawdry details, played out in the media for months. The Kitzhaber case only made headlines the last few weeks. A double standard in the media? Perhaps.
On Friday, however, Mr Kitzhaber's time ran out.