Recruiting race: College sport site profiles 11-year-olds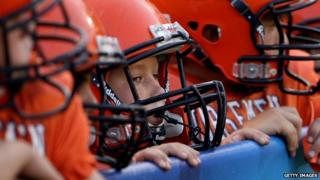 As the world of college athletics gets increasingly competitive, parents and coaches are pushing to get kids on track to land a coveted full-tuition athletic scholarship as soon as possible.
But how early is too early?
Rivals.com, a popular US football and basketball college recruiting website, recently added two sixth-grade American football players to its site. At 11 years old, they are the youngest players to have such profiles.
The pair attracted attention after being noticed at a NextGen All-America Camp Series in Massachusetts, which offers young athletes a chance to play in front of college coaches.
Brent Williams, a former defensive end in the National Football League and the organiser of the camp, writes that the two boys, Tyson Thornton and Daron Bryden, were so impressive that they were pushed up to compete against boys two grades ahead of them.
"Thornton is a 5ft 11in, 167lb running back with great explosiveness and surprisingly good body control for a kid his size and age," he writes. "Bryden, a small quarterback with a big arm, is incredibly composed and very polished - and he can make every throw."
While scouting young players may seem standard for European soccer fans, critics in the US say the boys are too young to have to think about playing American college football, which requires such a large amount of physical strength.
"Do you know what 11-year-olds are like?" asks FanSided's Stanford Crissey. "How far away playing college football is from being a reality for them? They go to school and learn long division; they've just figured out that the girls in their class don't have cooties; then they go home and play Pokemon. Maybe the recruitment can wait until, you know, they become even vaguely adult-like human beings."
Crissey says that recruiting high school students makes sense because they're already thinking about colleges. But chasing after athletes who are slated to graduate in 2021 doesn't make sense.
"In the future, Rivals, here's a guide to which prospects you should be keeping track of: limit it to anyone who wouldn't die instantly upon being tackled by a college linebacker," he writes.
By allowing sixth-graders onto the site, Rivals also became a punchline, with tweets like one showing an unborn baby's Rivals profile.
A number of SB Nation contributors also created profiles of their middle-school selves with positions like "defensive end/tight end who literally could not catch a pass if his life depended on it" and strengths such as "long, vaguely athletic edge rusher with a bad temper. Focusing on football after disappointing stints playing baseball, lacrosse, basketball, tennis and golf. Occasionally coachable."
Bob Cook says there's a logic, albeit a depressing one, to recruiting kids earlier.
Writing for Forbes, Cook says that it all comes down to marketing. Rivals gets to be the first in line for scouting ever-younger talent, while NextGen gets to charge families for the promise of exposure to coaches.
"The recruiting maw must be fed, and if you aren't willing to get into that business, you might as well not get involved with recruiting athletes," he writes.
SB Nation's Bud Elliott agrees.
He says that tracking young athletes is a widespread strategy. A few schools have even handed out scholarship offers to eighth-graders, and that number is probably much higher than what's already known.
"The real change is not the camp evaluation of players that young, but the introduction of media publicity," he writes. Although Rivals won't provide ratings and rankings for players until their sophomore year of high school, it will offer updates on the youthful standouts' progress.
The bigger problem, he says, is what having a profile means to a middle-schooler's psyche, even if it comes without a rating. Because it's so early in their athletic career, there's no guarantee that these young athletes will be a top prospect in the future.
"The flip side is also troubling," he says. "Not being recognised as one of the top performers could dissuade a kid from chasing his dream, which might be a mistake. Everyone experiences puberty on a different timetable."
Rival.com's move also comes during a national conversation about the medical side-effects of playing football.
A recent study of 42 retired NFL players showed that the ones who started playing before the age of 12 did noticeably worse on a series of tests measuring reasoning, concentration, problem-solving and memory.
A Fox Sports Live panel discussing the issue unanimously condemned creating profiles for such young players. Petros Papadakis, a radio host for the channel and a former football captain at the University of California, said that propping up such young kids as future football stars is the way to set them up to fail.
"College football is a man's game. And it's played by guys who are developed in their bodies," Papadakis said. "There's no way to look at a 12-year-old, and I don't care who it is, and tell them: 'You're the best player from your state.'"
In addition to the pressure and physical growth that these sixth-graders have ahead of them, they also have childhoods to experience. While a recruiting profile doesn't steal that time, it can dictate what it will look like.