Does Mike Huckabee want to be president?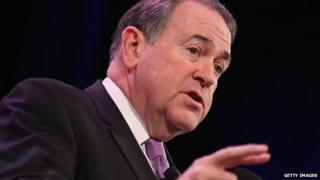 Contender or pretender - what can we make of Mike Huckabee?
The former Arkansas governor is at or near the top of many Republican primary polls, both nationally and in first-in-the-nation-voting Iowa. He's also making moves that appear to be clear indications that he intends to seek his party's presidential nomination.
On the other hand, he's the one notable no-show among Republican presidential hopefuls at a prominent conservative conference this week. And some critics, recalling that he teased running in 2012, think this could be just another attempt to use presidential-season media interest to generate publicity for personal gain.
As a possible candidate, Mr Huckabee has a lot in his favour. He's the only candidate polling above low single digits in the crowded Republican field with experience running a national political campaign. Although he spent 11 years as governor of Arkansas, he's best known for his surprisingly successful bid for the Republican presidential nomination in 2008.
The former Baptist minister combined a jovial Southern charm with a religious earnestness to attract evangelical voters, winning the Iowa caucuses and six other state contests before finishing second to Arizona Senator John McCain.
Mr Huckabee used the attention from his campaign to launch a career as an author, political commentator, and radio and Fox News television talk show host. It's part of the reason why, even though he's been out of elective office for eight years, he still has some of the highest name recognition among possible Republican candidates.
He also retains the ability to generate headlines, as his much-publicised controversial comments on same-sex marriage, women's libidos and school prayer have shown. It makes him the kind of speaker who could be a hit at this week's Conservative Political Action Conference (CPAC) in Washington, DC.
An annual gathering of thousands of conservative organisers, CPAC is a sort of giant trade fair for the political right. It's where Texas Senator Ted Cruz, at the time a little known Texas lawyer, made his first national splash in 2011. Ron Paul, Kentucky Senator Rand Paul's father, shocked political analysts by winning the end-of-the-conference presidential preference straw poll in 2010.
This year it's become a stage for the biggest Republican presidential aspirants. Both former Florida Governor Jeb Bush and New Jersey Governor Chris Christie are attending, hoping to court the type of grass-roots activists who may be suspicious of their conservative bona fides. Mr Cruz will be back, along with Rand Paul, Wisconsin Governor Scott Walker and Louisiana Governor Bobby Jindal.
Mr Huckabee spoke to the conference last year, but CPAC's Ian Walters tells Bloomberg News that he declined a 2015 invitation. Instead, he will address the National Religious Broadcasters Convention in Tennessee on Thursday and make several stops in South Carolina on Friday.
All this has some commentators wondering about Mr Huckabee's priorities. The decision to skip CPAC is "all you need to know about his presidential campaign", tweets Dan Spencer, who writes for the influential conservative blog RedState.
Mr Huckabee's business endeavours have also generated negative attention for the possible candidate. He made waves this week with a just-concluded 10-day trip to Israel, in which he led a group of 253 tourists (paying more than $5,000 apiece) on a bus tour of the nation's attractions.
"The Bible will come alive to you, and your love of God's Word and His Holy Land will grow like never before," read the promotional text for the trip on Mike Huckabee's website (now removed).
The excursion prompted a front-page Washington Post story by William Booth on Tuesday in which he writes the Arkansan is a devoted fan of "Israel's hard-line right wing" and quotes him as saying "there's no such thing as a Palestinian".
"The man is just nuts about Israel," he observes.
The Israel trip - and Mr Huckabee's ongoing US tour to promote a new book, God, Guns, Grits and Gravy - could play into a perception from some that he is more concerned with generating income and attention than mounting a serious campaign.
Mr Huckabee has been linked to criticism - both on the left and the right - of conservative groups that have used political fundraising and grass-roots organising for personal profit. Mr Huckabee was cited, in particular, for selling his aggregated email lists to questionable companies, including one that touts a sketchy "biblical" medical cure for cancer.
Amanda Marcotte, writing for Talking Points Memo, calls the presidential speculation "a feint whose real purpose is getting the email addresses of people gullible enough to think that Mike Huckabee is a legitimate candidate so that you can sell them survivalist gear and ineffective erectile dysfunction pills".
Despite these issues, there are legitimate signs that - unlike 2012 - this year Mr Huckabee could be ready to take the presidential plunge.
Most notably, he announced in early January that he was ending his Fox News talk show after a seven-year run, despite having signed a new three-year extension to his contract last fall. In December 2013 he quit his syndicated radio programme.
"God hasn't put me on earth just to have a good time or to make a good living, but rather has put me on earth to try to make a good life," he wrote in a 3 January Facebook post that has received more than 95,000 likes.
"As much as I have loved doing the show, I love my country more, and feel that it may be time for me to leave a zone of comfort to engage in the conflicts that have almost destroyed the bedrock foundations of America."
Mr Huckabee launched an independent political action committee, America Takes Action, that has hired several 2008 campaign advisors. In November he travelled to Europe with a group of religious leaders, 52 of whom hailed from the key primary states of Iowa, South Carolina, Nevada and South Carolina.
"Mike Huckabee has been 100% running since last February," says Iowa conservative radio host Steve Deace. "You don't walk away from Fox News because you want to play shuffleboard."
He warns, however, that the one-time dark-horse candidate will face a much more formidable field than he did in 2008 and would have in 2012.
"Had he run in 2012 the sea would have parted for him," he says. Now his following isn't as big as it used to be, and he is competing against other candidates who could attract his base of evangelical voters.
---
Possible 2016 opponents
No-one has formally declared but these are some of the names to watch:
early Republican frontrunner is Jeb Bush
but New Jersey Governor Chris Christie could battle Bush for the party's centre ground
darling of the Tea Party is Texas Senator Ted Cruz
firebrand liberal Elizabeth Warren is championed by many in the Democratic Party
libertarian Rand Paul has his supporters - and enemies - among Republicans
Hillary Clinton will have learnt much from her failed campaign of 2008
---
Mr Huckabee has acknowledged that if he's going to be a winning candidate this time around, he's going to have to broaden his appeal beyond his evangelical base.
"Running for president for me would not be about speaking on cultural issues," he told the Associated Press. "It would be first and foremost about national security, the absolute warning about Islamic jihadism and how much of a threat that poses to us. The second layer would be some economic sanity, getting back to a place where people are working with jobs that give them an ability to put bread on the table and build a future."
Deace says he's seen "no indication" that Mr Huckabee has been able to broaden his pitch so far, however.
He adds that some Republican voters are suspicious about whether Mr Huckabee is a real conservative fighter. In the past he's backed moderate Republican candidates and supported immigration reform and the national education standards known as Common Core - which have become anathema to many on the right.
"A lot of people I know in conservative media do not think Mike is a full-spectrum conservative," Deace says. "They basically think he's a pro-life liberal."
He says Mr Huckabee needs to get in front of grass-roots Tea Party conservatives, turn on the "trademark Huckabee charm" and show them he has the stomach to fight for their cause.
A winning Republican candidacy is going to take more than stomach, of course. It's also going to require serious money. According to Real Clear Politics, Mr Huckabee's campaign strategists have set a target for $25m (£16m) to $30m for his campaign by spring, with an equal amount for his independent political action committee.
In 2008 Mr Huckabee raised just $16.6m total.
Mr Huckabee has been meeting with possible financial donors in major US financial centres, "asking for pledges of five-to-six-figure donations to his aligned organisations", reports the Washington Post. In December he held a fundraiser in New Jersey that brought in $40,000 from a pro-Israeli political action committee.
His outspoken support of Israel's Likud government could prove key with another possible donor who has the kind of bankroll to almost singlehandedly put the Arkansan's ledger in the black - Nevada casino tycoon Sheldon Adelson.
In 2013 Mr Adelson awarded Mr Huckabee the Adelson Defender of Israel award, calling him "a great person, a great American and a great Zionist".
Mr Adelson gave $15m to support former House Speaker Newt Gingrich in 2012. But if Mr Huckabee wants similar largesse, he may have to wait a bit. An aide to Mr Adelson recently said the businessman won't back a Republican candidate until "well into 2016".
Mr Huckabee has said that he intends to make a formal decision on launching a candidacy in April or May - roughly the same timeline as many of his potential opponents. But make no mistake, the real race for the Republican nomination has already started.
Sarah Huckabee, Mr Huckabee's daughter and political advisor, told the Washington Post that Mr Huckabee's "heart is into it".
The question, then, is whether the rest of him will follow.