Could Clinton emails shake up the 2016 Democratic race?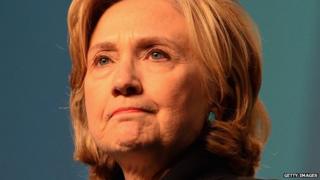 Make no mistake, Tuesday's New York Times report on Hillary Clinton's exclusive use of a private email account during her time as US secretary of state could turn into a major development in the 2016 presidential race.
This all stems from Mrs Clinton's position as the leading - only, really - candidate for the Democratic presidential nomination. At this moment there are no realistic alternatives. If Mrs Clinton's electoral prospects sink, her party goes down with her.
In the Times article Nick Merrill, a spokesperson for Mrs Clinton, said the email account was within the "letter and spirit of the rules" and that they have provided over 55,000 emails to the State Department. In politics, however, following the letter of the law is often not enough.
The story is particularly damaging to Mrs Clinton because it plays into two existing negative perceptions about both the former secretary of state and her husband - that they are overly secretive and they believe the normal rules don't apply to them.
The National Journal's Matt Berman calls it "catnip for her political opponents".
"As far as the story backs up previously conceived ideas about the Clintons' level of transparency and, more specifically, about Hillary Clinton's insularity, it could give her opponents some pretty potent ammunition," he writes.
Conservative commentators have been quick to note that the email revelations came as a result of the congressional investigation into the 2012 attack on the US consulate in Benghazi, Libya.
"Remember when some in the media laughed at the idea of a Benghazi select committee?" writes Hot Air blog's Ed Morrissey. "They're not laughing now. Neither is Hillary or the White House."
He goes on to point out what could be the most damaging aspect of this story - the security concerns and legal issues that arise if diplomatic communications were conducted via private email.
"If any of her communications involved sensitive or classified material, Hillary may have broken more laws than just those dealing with archival of official records," he writes. "This could very well be huge, and not just in relation to the 2016 election."
Mrs Clinton's political opponents on the right were also quick to join the fray.
"What was Hillary Clinton trying to hide?" asked Republican National Committee Chair spokesperson Michael Short in a press statement.
"Transparency matters," former Florida Governor and likely Republican presidential candidate Jeb Bush tweeted shortly after the news broke. "Unclassified @HillaryClinton emails should be released."
Earlier this year Mr Bush gave reporters hundreds of thousands of his official emails - including some that were later discovered to contain private, and occasionally embarrassing, information about his correspondents.
More interesting than the expected conservative attacks on Mrs Clinton, however, will be whether she takes any fire from fellow Democratic politicians.
Reaction on the left, so far, has been one of incredulity. How could Mrs Clinton have been so negligent? Why didn't anyone - within the State Department or elsewhere in the US government - step forward and tell her this was a bad idea?
Vox's Max Fisher points out that when Mrs Clinton took the State Department portfolio in 2009, several high-level Bush administration officials - including White House advisor Karl Rove - were under fire for conducting official business on personal email accounts using Republican Party-issued laptop computers.
"There is simply no way that, when Clinton decided to use her personal email address as secretary of state, she was unaware of the national scandal that Bush officials had created by doing the same," he writes.
Blogger John Cole says Mrs Clinton has made another "unforced error" that calls into question the competency of her nascent campaign.
"Not only is it not secure and a breach of that protocol, but since she will never turn over her full personal email, now she fuels speculation that she is withholding emails," he writes. "Just idiocy."
The strength of Mrs Clinton's shadow campaign, so far, has effectively discouraged any challengers for the nomination from stepping forward - or even beginning the most preliminary moves to lay the groundwork for a candidacy.
If this story - combined with other recent unflattering news, such as questions over foreign donations to her non-profit foundation - begin to take a toll on her popularity, however, that ground can shift quickly. Democrats soon may realise a nomination race that is, in effect, a coronation is a risky endeavour.
Cole himself calls for other candidates to "come forward to challenge her".
The latest developments might shed light on a move, reported by the Wall Street Journal on Monday, that Mrs Clinton was advancing the date she plans to announce her candidacy from July to April.
Earlier indications were that she was in no rush to launch her campaign, as she preferred to stay above the political fray for as long as possible with no primary opponents on the horizon.
If the email story becomes a running scandal, however, and dissatisfaction within Democratic ranks grows, she may no longer have that luxury.