Would China back a divided EU?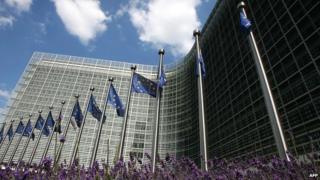 If you ever get the right security clearance and make it up to the 12th floor of the European Commission building in Brussels, keep an eye out for the private meeting room of the man in charge of Europe's Internal Market and Services, France's Michel Barnier.
On the wall he has hung a map of the world. A Chinese map of the world. With the Pacific Ocean at its centre and Europe a distant shore that almost falls off the far left hand end of the chart.
He keeps it as a reminder - as far as he's concerned - that Europe will only survive in today's global economy if it sticks together.
China is important - crucial. That's why the Chinese president - who's just left after a lengthy tour of Germany, France, The Netherlands and Belgium - was so feted wherever he went.
But Mr Barnier believes Europe's nations would struggle to deal with China on favourable terms if they were not all part of one large, important bloc.
Such arguments are being deployed forcefully by pro-Europeans as we approach May's elections.
Right now China has to deal with the world's largest trading bloc.
But if the ties that bind the EU together were to loosen - they argue - would Beijing continue to look west towards a distant collection of increasingly disparate nations?
Indeed would it look even further west to the tiny isolated outcrop of rock that is - on their map - Great Britain?