Greek bailout worries ease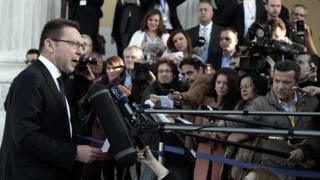 The doctors had come to inspect the patient.
Since 2010, Europe's sick man has been drip-fed instalments of its 240bn-euro (£200bn; $331bn) bailout. The bad blood between Brussels and Athens, when Europe's leaders berated Greece over lagging reform efforts, has receded. And today, eurozone finance ministers gathered in sunny Athens talking of "recovery" and "great efforts" that qualify the country for another big slice of aid: 8.3bn euros, to come in three sub-tranches.
For the Greek government, it's an important sign of confidence before European - and local - elections in May. The Prime Minister, Antonis Samaras, knows their outcome will depend on whether Greeks are beginning to feel that a corner has been turned. He's staked his career and his government's tenure on bringing Greece out of its worst financial crisis in living memory.
The left-wing opposition Syriza has capitalised on the pain that Greeks have gone through to get here. Four years of austerity, leading to unemployment above 27%, have given the anti-bailout leftists the lead in every poll for weeks. There's likely to be a large protest vote against the cost-cutting government in May's ballot.
But after some positive economic signs, Mr Samaras's conservative New Democracy has edged ahead in one opinion poll - and there's a spring in the prime minister's step.
The green shoots are showing: Greece is forecast to exit six years of recession this year, the deficit has been wiped out, save for interest on the bailout, and Athens is even preparing a return to the markets for the first time since 2010. The reform efforts will, the government hopes, persuade eurozone leaders to grant it debt relief later this year by extending the repayment of loans or lowering interest rates.
And yet most Greeks care or understand little about opaque macroeconomic figures. They focus instead on record joblessness, one in three now at risk of poverty.
The thud of tear gas canisters and smoke of petrol bombs no longer fill Syntagma Square, but protests continue and a general strike has been called for next week. Until unemployment falls and the majority sees a tangible improvement, the smiles of eurozone finance ministers won't rub off here. And the government still risks a backlash at the ballot box.