Clegg v Farage: Britain's EU debate baffles Brussels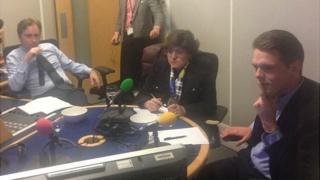 They watched with pity, astonishment and dismay.
As Nick Clegg and Nigel Farage battled it out in London last night I sat in the BBC's Brussels bureau with two MEPs as they absorbed the spectacle. "What's so strange is that if you had this debate in Sweden there'd be a lot of criticism of the EU, but leaving is not an option. And that's the difference," said Christofer Fjellner, a young conservative MEP from Sweden.
Suggesting a sort of political repression (don't the Swedes think we're repressed about everything?) he thought Britain hadn't had a proper debate about its relationship with Europe for years. The problem now, he said, was that it was exploding in Britain's face. Mr Fjellner thought the real argument should be about how to reform the EU, not whether or not to leave.
Ana Gomes, a socialist MEP from Portugal, was particularly scathing about Nigel Farage's tone on immigration. "What if my country had the same policy and kicked out all the Brits who are there in retirement?" she asked.
Their views echoed those of two other MEPs we persuaded to watch the first Farage/Clegg clash last week. Sven Giegold, a German MEP, said that contest was too narrowly focused on perceived economic interest, with little spirit or understanding about the vision underpinning the EU.
Svetoslav Malinov, a Bulgarian member of the conservative EPP group, quoted former EU Commission president Jacques Delors, who said you can't fall in love with the common market. That, he thought, was Nick Clegg's mistake. His economic argument struggled against the populism of Farage.
All the MEPs thought it impossible for a similar debate to happen in their own countries. But wouldn't that increase voter engagement with the EU, I asked them? They didn't think so. All concede the European Union is at a critical moment. And they expect a backlash in many member states during next month's elections, with parties on the far-left and far-right harvesting anti-EU sentiment.
But none could see a country's exit from the EU as the answer. At the moment, they view Britain's latest paroxysm of Euro-introspection as a peculiarly British quirk - and one that's really beginning to irritate Brussels.