European elections: Ballot fever reaches Brussels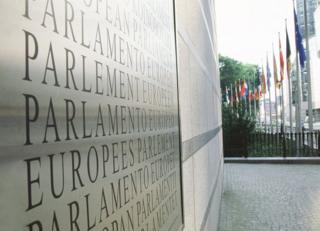 This week's mini-plenary at the European Parliament in Brussels was notable for two things.
It was the first such session held in Brussels for nearly two years because the parliament's hemicycle chamber had been closed for structural repairs. It also saw a large amount of business done as MEPs tried to get legislation through the system before the end of this parliamentary term.
It was no surprise that there were several eye-catching measures designed to appeal to citizens who may (or may not) be casting votes next month.
The agreement to phase out mobile phone roaming charges across the EU by the end of next year was one. The vote to limit the fees paid on credit card transactions was another.
Both measures still need to be agreed with member states and amendments are still possible but these are easy-to-understand issues, designed to create a level playing field in the single market and to make things cheaper for consumers.
Parliamentary officials admit that everyone now has one eye on the forthcoming elections. Pro-European MEPs will be pleased to have a couple of fresh examples of "what Europe can do for you" to take with them as they start to knock on doors and campaign for re-election.
But political tensions within the parliament are also coming to the fore. During today's voting a majority of MEPs called on the parliament's President, Martin Schulz, to step down from his job.
They argue that his current position is incompatible with his high-profile political campaign to become the next president of the European Commission.
Electioneering has well and truly begun.