Italy football star Tardelli aims for EU goal as MEP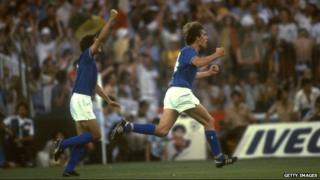 Remember Marco Tardelli? He is a legendary Italian former football player who led Italy to win the World Cup in 1982. He made film history with his burst of unrehearsed euphoria after putting his team 2-0 up against West Germany in the World Cup final.
And yes, he will be running for election to the European Parliament in May! Prime Minister Matteo Renzi, of the centre-left Democratic Party (PD), personally nominated him. Tardelli was at Downing Street last week, when Mr Renzi was there to meet PM David Cameron, and even said in front of London Mayor Boris Johnson: "I don't know much about politics".
To be precise, he has ZERO political experience. Could it be an Italian ploy to boost voter turnout by making the Brussels elections about football?