MEPs try out election moves - in rap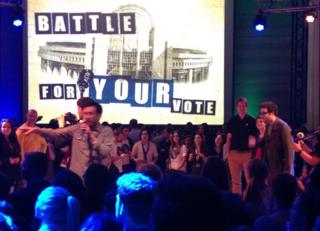 Desperate times call for desperate measures.
Getting young people to vote in the European elections has always been a challenge, so MEPs have seized the initiative with a rap "battle" at the European Parliament in Brussels.
As with any debate, politicians were quizzed on key topics about the EU - from the single currency to immigration. The key difference was that they gave their answers through rap music.
With (substantial) help from professional, freestyle hip-hop artists, MEPs duelled until a winner was chosen by the crowd gathered round the stage.
MEPs were given the microphone for a minute to try and drum up some pre-election support. The conservative European People's Party tried to appeal to the young crowd by saying "If you like money, vote for the EPP". And then the battle commenced.
"Leave your suits at home and dress casual," said the invite, and some MEPs got more into the spirit than others. The stand-out star of the evening was the German liberal, Jorgo Chatzimarkakis, busting his moves on the dance-floor as he led his team to victory.
But young people I spoke to there told me that they had turned up for the free booze. They said the event would have made a difference if MEPs had organised it in a public venue, rather than inside the parliament complex.
After last night MEPs are now hoping their beat box skills will translate to the ballot box.
BBC Brussels intern Rachel Hosie contributed to this blog post.