European elections: Bye bye Dany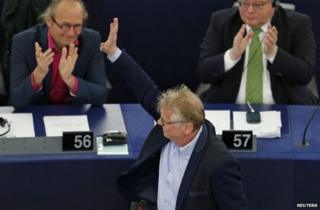 There is much coverage in France today of the departure from the European Parliament of a man who probably more than anyone can claim to be its emblematic figure: Daniel Cohn-Bendit.
At the age of 69, and after four terms as a Green party deputy (for both German and French constituencies), the former student firebrand has decided to retire from frontline politics. He will not be standing in next month's election.
Speaking on French radio, he said his last speech to the parliament on Wednesday had been an emotional moment but it was time to pass the baton to a new generation.
"Twenty years of my life is coming to an end," he said. "And when I look forward, I can't help thinking: will there even be another 20 years? That's quite a distressing thought."
For all his advancing years - and the cancer scare that he had recently - Mr Cohn-Bendit still has that look of youthful swagger that made him such a photogenic figure in May 1968 in Paris.
As a German national, Dany the Red was expelled from France for his role in the student movement, and not officially allowed to return until 10 years later. After joining the German Greens, he was first elected to the European Parliament in 1994.
In Strasbourg he has been one of the parliament's very few charismatic figures. His arch-enemy, Marine Le Pen, had it right when she said that "to a frigid not to say lifeless assembly, his big mouth has given it the bit of life it needed". Jose Bove, his friend and occasional sparring partner, said he "was the incarnation of Europe".
With his double nationality and outspoken multilingualism, he has been the federalist cause's most visible and most attractive spokesman for two decades. His allies will miss him greatly.
Now he can turn his attention to his other great passion: football.