Van Rompuy hints at post-election battle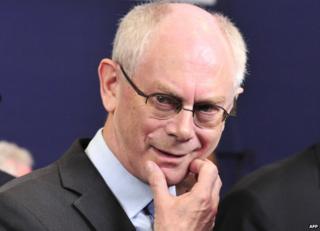 Could MEPs be heading for a clash with EU government leaders after the May election, over the top job in Brussels - head of the European Commission?
In an interview with Germany's Sueddeutsche Zeitung the European Council President, Herman Van Rompuy, is none too keen on the European parties' nomination of top candidates to head the Commission.
For the first time the EU's Lisbon Treaty gives the European Parliament a deciding vote on the candidate to replace Jose Manuel Barroso as Commission president.
The Council, chaired by Mr Van Rompuy, will have to choose someone acceptable to MEPs. The parliament vote is scheduled for mid-July.
"I'm no great enthusiast for this idea of leading candidates," Mr Van Rompuy says. Pan-European party candidates will have little influence on voters, who are often more concerned with national issues, he argues.
He acknowledges that the European Parliament now has an "important role", but then adds: "The difference between the parliament and those who really decide is very clear to citizens". The low voter turnout in European elections is a sign of that, he says.
Such comments may irritate - or infuriate - some MEPs.
Austrian MEP Hannes Swoboda, head of the Socialists and Democrats (S&D) bloc in Europe, lashed out on Twitter. "Scandalous", he called Mr Van Rompuy's interview. "Clearly he doesn't understand democratic process of #EP2014 nominations!"
Brussels rivalry
The choice of Commission president is supposed to "take into account" the election result, the Lisbon Treaty says.
The rival European party blocs have already nominated their top candidates to replace Mr Barroso as Commission president.
Jean-Claude Juncker from Luxembourg, a veteran of EU politics, is the centre-right candidate for the European People's Party (EPP).
The S&D has chosen Martin Schulz from Germany, currently the parliament's president.
The liberal ALDE bloc's choice - former Belgian prime minister Guy Verhofstadt - is, like the other two, a firm advocate of EU integration.
Opponents call them Brussels "federalists". But perhaps the real question is: How many European voters even recognise their names?
Opinion polls suggest that Eurosceptics are gaining ground ahead of next month's elections. Mr Van Rompuy wishes that more European politicians would speak out in support of the EU.
"What bothers me is that those who have strong convictions about Europe are not defending those convictions vehemently," he laments.
Mr Van Rompuy, also a former Belgian PM, may be pondering his political legacy. He too will be replaced in November, when he completes his five-year term.