Is Germany becoming more Eurosceptic?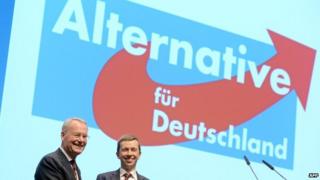 There's no such thing as a Eurosceptic. Not a typical one anyway. That much is already clear in this round of European Parliament campaigning.
Euroscepticism takes on many forms. In Germany, it comes in the form of the AfD - the Alternative fuer Deutschland.
The party was founded by a group of economists. Joern Kruse - a professor of economics - is one of those founders. He's the leader of the party in Hamburg.
"We want to reform the euro. We want to make it workable. At the moment it doesn't work. It creates unemployment and debt crises."
What does reforming the euro mean? "Probably saying goodbye to a number of members like Greece and Portugal."
The mainstream parties here aren't too worried about the AfD. Take a listen to what Roland Heintze told me (he's top of the list for MEP candidates for the ruling Christian Democrats in Hamburg).
He's right about the size of the threat from the Eurosceptic left and right.
"Germans are, all in all, still very enthusiastic about the European Union," says one of Hamburg University's political scientists, Kamil Marchinkiewicz.
So don't, he cautions, "overestimate the AfD's importance in German politics. It may function as an organisation bringing German Eurosceptics together, but in comparison to UKIP in Britain they are a soft kind of Eurosceptic."
Germans, he says, are "sceptical about British Euroscepticism, because they believe Germany is benefiting from the EU and most Germans believe that also Britain is benefiting from the EU."
"Germans are more sceptical about the chances of their country outside the EU, even though Germany is the most powerful country in Europe. They somehow probably underestimate their own power and they don't understand why Britain, even though it's a smaller country, probably overestimates its chances (outside the EU) in the globalised world."