Ten years on - how do Poles feel about EU?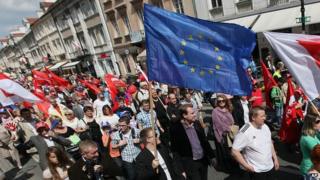 In Warsaw there was a bit of a May Day party in a park next to an ornamental lake: the president planting a tree, concerts and marching bands, and families sitting on the grass having picnics.
May 1 was 10 years to the day since Poland joined the EU - along with seven other former communist countries from Central and Eastern Europe.
Big Bang enlargement they called it. And for many observers it's been one of the biggest success stories in the EU's history - bringing the division between East and West in Europe to an end.
Sure, there have been some economic struggles, and some difficult transitions. Institutions in Brussels, including the European Parliament, can seem as remote as ever.
But much of Eastern Europe is unrecognisable from the region that became part of the EU a decade ago.
It's not all down to EU membership, but there's no question that it has helped.
"I think (we) used this time correctly because it was not always an easy time," argues former President Alexander Kwasniewski, who was at the helm when Poland joined.
"There was the financial crisis," he adds, "and now Ukraine…"
Security concerns
The crisis in Ukraine has been a reminder for many eastern EU member states of what they gained when they joined both the EU and Nato - a greater sense of economic and political stability.
"People are concerned about what's happening in Ukraine," says the political analyst Konstanty Gebert.
Unlike countries further west, this is happening on their doorstep.
"We in Poland who have always been considered somewhat paranoid and untrustworthy with our Russia obsession inside the EU," he argues, "have the unhappy feeling of having been right".
A sobering thought on this tenth anniversary.