UK left out of campaign for EU's top job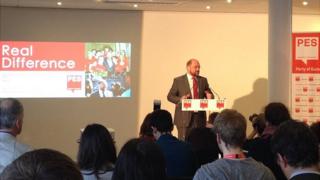 The candidates debate in English. Their press conferences are in English. Their entourages spin speeches in English. But England (as well as Wales, Scotland and Northern Ireland) barely features in their campaign battle plans.
While the five contenders hoping to be the next European Commission president munch up road and air miles campaigning across Europe the UK is ignored, written out of the script. An omission that says a lot.
A quick recap: With two weeks to go until the European elections, the contest to run the EU Commission is heating up - from a frosty start. These are the people picked by the party groups in the European Parliament to be their nomination for EU Commission President - the most important job in Brussels.
Based on their reading of the Lisbon Treaty, MEPs believe they now have the right to pick the next president. That's why we're seeing this contest. For the first time the main party groups have picked one candidate to be the figurehead of their election campaigns. They say the candidate of the group with the most MEPs after the election will become the next Commission president.
But you won't see them on the stump in the UK. Martin Schulz, the centre-left's candidate and current president of the European Parliament, bluntly told a press conference on Wednesday: "I will not go to the UK to campaign".
He did pop to Belfast for a day last month to meet the moderate nationalist SDLP, but that's it.
Even though the Labour Party are part of Mr Schulz's group he won't be seen clasping hands with party leader Ed Miliband in a town centre near you.
UK debate different
The centre-right European People's Party candidate Jean-Claude Juncker won't be visiting the UK either, although that's less of a surprise because David Cameron took the Conservative Party out of the EPP a few years ago.
Only the Liberal candidate Guy Verhofstadt might put in an appearance - at the Oxford Union. But his office says that might slip too.
So while this contest to be Commission president rolls through Europe, gaining some attention from voters and hacks, it's invisible in Britain.
After the Schulz press conference I spoke to one of his team and asked him why the snub? And it turns out the Labour Party has not invited Martin Schulz over. The aide explained the UK European election campaign is unlike any other in Europe. It is entirely framed by domestic politics, with the added spice of an argument over Britain's future membership of the EU.
Commission candidates unknown in Britain are not considered useful soldiers in the British political ground war. The UK's semi-detached place in Europe and the EU's weary endurance of Britain doing things differently are symbolised by the absence of Commission candidates on the other side of the Channel.