Barroso: EU should cater for UK differences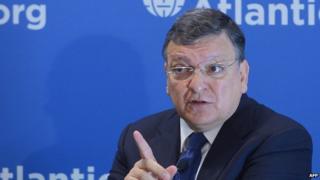 The retiring head of the European Commission has said the EU should find ways to cater to Britain's needs.
Jose Manuel Barroso said he was sure that the UK was stronger as a member of the EU than alone.
"But... for historical, geopolitical and economic reasons, the case of the UK may be seen as a special one," he said in a speech in Berlin.
However, he went on, it would be a "mistake" to give the same concession to other member states.
Mr Barroso will step down as Commission president this summer, once a successor has been chosen by the member states. The new Commission should officially take office in November.
He did qualify his apparent concession to the UK, saying it should not become a model for other member states who sometimes share British positions.
"I do acknowledge that for historical, geopolitical and economic reasons the case of the UK may be seen as a special one. Precisely because of this, it would be a mistake to transform an exception for the UK into a rule for everybody else.
"We can, and should, find ways to cater to the UK's specificity, inasmuch as this does not threaten the Union's overall coherence," he said.
The UK and Denmark are the only two EU members with opt-outs from the euro - the other countries that have not yet joined are treaty-bound to do so, when their economies are ready for it.
Rise of UKIP
The UK's Conservative-Liberal Democrat government has been especially anxious to make its voice heard in key EU discussions about reforming banking and financial services.
Mr Barroso's phrase could be seized on by those - such as the Conservative Party - who want a major renegotiation of the UK's EU membership terms in advance of the European elections on 22-25 May.
The Conservatives are facing a big challenge from the Eurosceptic UK Independence Party (UKIP), which argues that Britain should pull out of the EU. Opinion polls suggest UKIP could double the number of MEPs it has in the European Parliament.
UKIP leader Nigel Farage dismissed Mr Barroso's comments about the UK, calling this "another major slap in the face for David Cameron".
'Ownership' of EU policies
The 18 eurozone members hold regular separate meetings on economic issues, and the UK government does not want eurozone integration to leave the non-euro group in a separate "slow lane".
Mr Barroso also complained of "a lack of ownership in European politics", acknowledging that many voters felt remote from EU institutions and that politicians often distanced themselves from EU measures.
As Euroscepticism had grown, he said, some mainstream political forces had "internalised populist arguments rather than countering them".
"At the European level, national politicians can ask for much more than at home, without needing to take responsibility for subsequent adoption and implementation. The temptations and opportunities to shirk responsibility are manifold," he said.