EU-Russia jitters reach Latvia election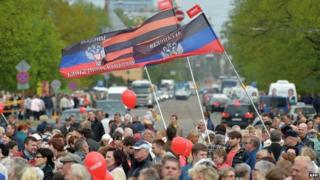 All politics is local, and Latvia is no exception.
The debate here is being dominated in many ways by Russia, and by the unrest in Ukraine. It is the backdrop against which this election campaign is being fought.
The fact that a significant minority of Russians in Latvia approve of what President Putin has done in Crimea - annexation by Russia amid international condemnation - ensures that it will remain a hot topic.
But the European elections are being seen as a dry run for a general election in October. And voters are being given an opportunity to cast judgement on Latvia's decision to impose harsh austerity measures in order to qualify for membership of the euro.
Latvia joined the single currency at the beginning of this year and at the time it wasn't a hugely popular move.
"There was opposition," admits the former Prime Minister, Valdis Dombrovskis, who is standing for election as an MEP, "but things have gone pretty smoothly".
"I hope parties which support the euro will win a majority of seats in the European Parliament," he adds.
But he could be disappointed.
Membership of the euro is a done deal, but parties which remain sceptical are polling well. The left-wing Harmony Centre (which draws much of its support from the Russian community) looks set to come first.
What's happening in Ukraine (and Russia) is a source of real concern, but the economy will probably prove decisive to the outcome of both Latvian elections this year.
If EU sanctions against Russia intensify of course, Latvia will feel the pain as well.