EU struggles for fans in affluent Austria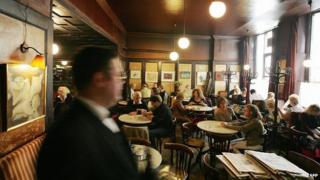 A new poll in Austria by Der Standard newspaper says 70% think the EU is on the wrong course.
Austria's relationship to the EU is deeply ambivalent. The small, wealthy Alpine republic, which joined the bloc in 1995, is widely agreed to have done well out of the EU and the bloc's eastern enlargement, in terms of growth and trade.
Austria has some of the lowest unemployment rates in Europe and has been shielded from many of the worst effects of the euro crisis.
But for years it has recorded some of the highest levels of Euroscepticism in the EU, according to the European Commission's Eurobarometer polls.
The far-right populist Freedom Party (FPOe) is tapping into this, with campaign slogans like "Too much Europe is dumb".
But the political analyst Thomas Hofer says it's not just the Freedom Party. "Most parties are playing to this huge group of sceptics," he says. "It gives the whole campaign a negative tone. It is a problem for the pro-Europeans in Austria."
However, while Austrians are very critical, most of them stop short of wanting to leave the EU.
"We are Eurosceptics but there's no movement like Britain's UKIP. Even the Freedom Party isn't really touching that," says Thomas Hofer. "Most Austrians know very well we wouldn't be better off if we leave the EU. We are in the heart of Europe."
And one party, at least, is trying to buck the Eurosceptic trend - the NEOS, a new liberal group which is hoping to win at least 5%, or as much as 10%. Its slogan is "We love Europe".
"Euroscepticism is just stupid," Chris, a 27-year-old NEOS supporter, told me. "Austria is a country which has a lot of hi-tech industry and exports a lot to Europe. If it closes its borders, it will be a catastrophe for the economy and the people."