Warfare between Eurosceptic camps: Le Pen v Farage
By Sam Wilson
BBC News, London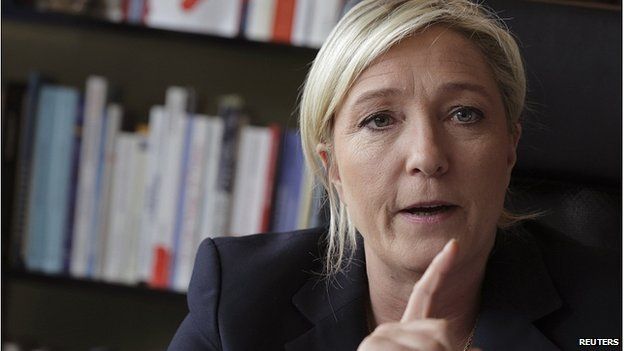 Open warfare has broken out between two of Europe's leading Eurosceptics.
Marine Le Pen, leader of France's National Front (FN), has accused Nigel Farage of the UK Independence Party of "aggression" against her party, for labelling it racist.
Mr Farage had rejected ties with the FN for its "anti-Semitism and general prejudice".
Ms Le Pen told the Financial Times: "[British PM David] Cameron said UKIP was a bunch of drunks and racists. [Mr Farage] is no better; he's using arguments against the FN of which he himself has been a victim. It's dishonest."
She blamed it on an old rivalry "between France and England", surfacing now over who would be Eurosceptic top dog after the European election.
@electionista predicts, based on polls, that UKIP and the FN will come top in their own countries, each getting more than 20 parliament seats, with another 20 or so going to Italy's Five Star Movement. Other Eurosceptic parties may chip in another 40 or more.
But the Le Pen-Farage row highlights the difficulties that Eurosceptics may have in forming a cohesive bloc in the European Parliament.
UKIP has rejected ties with parties with far-right reputations, like the FN and Geert Wilders' Dutch Freedom Party (PVV), as it tries to dispel suspicions of racism.
But in turn, it's being held at arm's length by others like Germany's Alternative (AfD) which, as the BBC's Nina Lamparski found, regards UKIP's views as too extreme.
In a series of pieces this week, our reporter Henri Astier will examine how the FN has harnessed a surge of support in France, why some immigrants are considering voting for it and whether it can any longer be labelled far-right.
Part of the FN's success is based on using policies of the left - like protectionism - to steal support in left-wing strongholds.
But will tensions over policies - not to mention traditional prejudices between nationalist movements - prevent any meaningful co-operation between Eurosceptic parties?
Ms Le Pen says not, reckoning the FN will be able to tie up with the PVV as well as nationalist parties in Austria, Italy, Belgium and Sweden.
That will show, according to her, that "those who believe in the nation" are gaining ascendance over the European federalists they so despise.