European elections: Spy scandal for Hungary's far-right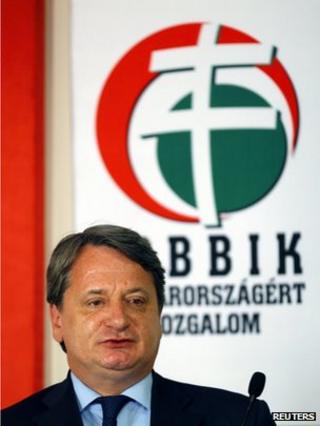 Just days before the elections for the European Parliament, Hungary's far-right Jobbik party has been shaken by claims that one of its top figures is a Russian spy.
Already dubbed "Bela Bond" in the Hungarian press, Bela Kovacs, a 54-year-old MEP, strenuously denies the allegations, first published in a pro-government newspaper, Magyar Nemzet, last week.
The Hungarian chief prosecutor has confirmed that a criminal investigation is under way against him for which the punishment, if found guilty, would be two to eight years in prison. The prosecutor wrote to the speaker of the European Parliament, Martin Schulz, on 12 May, to ask for his parliamentary immunity to be lifted - that might take months.
"I have never been a member of any secret service, Hungarian or foreign," Mr Kovacs told a press conference called hastily by Jobbik last Thursday when the story broke. "I never co-operated with them, nor have there ever been attempts to recruit me."
In Budapest, the national security committee of parliament met behind closed doors to question both Bela Kovacs and Jobbik's leader, Gabor Vona.
On the eve of the April parliamentary election, another leading Jobbik deputy, Marton Gyongyosi told the BBC that Jobbik had never received funds from "either state or private sources" in Russia, and dismissed rumours about Russian and Iranian backers for the party as a long-running and baseless smear.
Jobbik scored 20% in the April parliamentary election in Hungary, and is widely expected to overtake the struggling Socialists to become the country's number two party after the governing Fidesz at Sunday's European election. A key to their success has been to soften the party's image, in order to compete with Fidesz for the Eurosceptic vote. While only two years ago an EU flag was burned on stage at a Jobbik rally, they are campaigning in this election for a "Europe of the Nations".
Vote 2014
Full coverage of the European elections and results
Bela Kovacs became a Jobbik MEP in 2010, and is third on their list in this election, almost guaranteed a new mandate. He is also president of the far-right Alliance of European National Movements. Polls suggest Jobbik could win up to five of Hungary's 21 seats in the European Parliament. The timing of the revelations is suspicious - just at the moment when Jobbik is emerging as the governing party's main challenger.
Jobbik has long been outspokenly pro-Russian and Bela Kovacs has been central to that tendency. He studied in Moscow from the mid-1980s and only returned to Hungary in 2003. He first travelled to Russia with Gabor Vona in 2008. Like Fidesz, Jobbik strongly supports a contract with Russia to built two new 1200MW nuclear reactors at Paks in central Hungary.