Austria's Freedom Party sees vote rise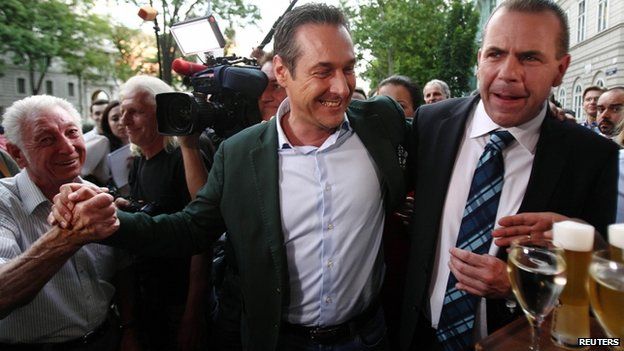 In Austria, there were big gains for the far-right Eurosceptic Freedom Party, which came in third place with around a fifth of the vote.
The anti-immigrant Freedom Party, which campaigned with slogans such as "Too much EU is dumb," picked up four seats, two more than in the last election.
It has said it was hoping to form an alliance with France's National Front and other like-minded parties in the new EU parliament.
Freedom Party leader, Heinz-Christian Strache, arriving at his election celebration, said: "We have made strong gains all over Europe."
But analysts say the overall share of the Eurosceptic vote remained reasonably stable in Austria.
They say the Freedom Party profited from the fact that another party of EU sceptics, the Hans Peter Martin List, which won more than 17% in 2009, did not run this time round.
Almost three-quarters of Austrians who turned out to vote, however, chose pro-European parties. The conservative People's Party took first place, and its governing coalition partner, the Social Democrats came second.
The other winners of the evening were the Green Party, which increased its share by more than 5%, to reach 15% - and the new liberal NEOS, which got one seat in Parliament. Its slogan was "We love Europe."