Europe elections: Italy ripe for change under Renzi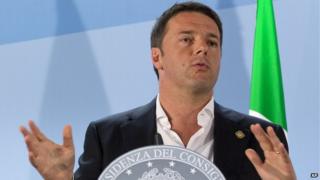 For Italy's prime minister, the young reformer Matteo Renzi, these are heady days, full of new-found promise - but heavy too with the weight of great expectations.
His centre-left Democratic Party (PD) won big in the European elections.
All the pollsters failed to spot the coming Renzi landslide. In fact they performed so badly that it has been suggested that when it comes to foretelling the political future, Italians might as well to go back to doing what the ancient Romans did: rip open a chicken and peer at its entrails.
Mr Renzi's surprisingly handsome victory has resonated across the continent.
While other parties in power were suffering at the hands of Eurosceptics, this avowedly pro-EU leader found a vote-winning formula.
He had extolled the potential of the "European Dream", but also called for profound reform in Brussels.
He wants less austerity economics, and much more focus on generating jobs and growth.
Reform agenda
Mr Renzi knows his win has given him new stature and influence in Europe, and this at a time when Italy is just about to inherit the EU's rotating presidency.
"Italy is not the bottom of the class," he was quoted as saying last week. "Italy is a country which - if it changes itself - can also be one of the leaders in Europe."
And that reference to the need for change at home is key.
All of Mr Renzi's recent success will amount to very little if he fails to deliver the sweeping reforms he has promised.
He wants to make Italy easier to govern.
His plans include a transformation of the Senate that would leave it with minimal powers.
He intends to drive through a new law that would lead to much clearer-cut election results. The winning party would be less likely to have to form a complex coalition. There would be less of the instability that has plagued governments here.
He wants to reform the tax system, the labour market and the bureaucracy.
Great expectations
Mr Renzi is seeking to reshape some of the most contentious terrain in Italian politics.
Interest groups and rival parties can be expected to obstruct and delay at every turn. The pace of change will be far slower than the impatient Mr Renzi would like.
And how much in the way of compromise and watering-down of his reforms will there need to be?
In the end, will voters feel that the Renzi revolution really amounted to much?
So far it has always been a mistake to underestimate this former mayor of Florence.
But if he fails to meet the challenges ahead, the anti-establishment, Eurosceptic Five Star Movement will be waiting to pounce.