On the trail of Jean-Claude Juncker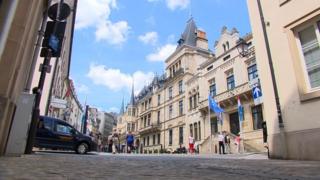 It is hard to find anyone here with any objection to Jean-Claude Juncker as EU Commission president.
The most talked about man in European politics spent 19 years as Luxembourg's prime minister.
Arriving in the capital of the Grand Duchy, in the central square, I am approached by the general secretary of Luxembourg's parliament, or chamber of deputies. "BBC?" he asks.
Mr Juncker is in town, he says. He appeared in parliament the day before to vote on a gay rights bill that he had spearheaded while still prime minister.
Since the debate erupted over whether he should be the next EU Commission president he has refused to give interviews. But his cadre of supporters are more than willing to talk.
"He is by far the most popular politician Luxembourg has ever known," says Claude Wiseler, deputy chairman of his party, the CSV, and a man who has known Mr Juncker since university.
It seems everyone is behind him, even those in the Luxembourg Socialist Workers' Party (LSAP), who formed a coalition that booted him out of the prime minister's office last year.
With a population of only 500,000, Luxembourg has been prolific in its production of EU leaders, and is proud of it.
"We are a small country," says Jean Asselborn, foreign minister and LSAP member. "There is an element of solidarity in this."
But not everyone agrees. "He is tired," says Mario Hirsch, a political adviser while Mr Juncker was leader but not to the PM himself.
Years of chain-smoking and drinking litres of strong coffee a day have caught up with him, he believes.
There is a tendency to act alone, he adds, to make decisions without consulting his advisers, like a "lone cowboy riding out into the sunset".
We meet just outside the office of Mr Juncker's parliamentary group: a beautiful, tall, turreted building standing over a cobbled courtyard littered with tables and chairs.
Security men in black suits are lolling around outside. Hidden from view under an awning, Mr Juncker is sitting over lunch with the head of the International Monetary Fund, Christine Lagarde.
Ms Lagarde has also been tipped for the commission presidency. And, according to Mr Juncker's adviser, they are close friends.
As I prepare to leave, they finish lunch and Mr Juncker, stooped and pale, lopes up the steps to his office. He is less than pleased to see a journalist in his path.
"I am silent as ever," he says, taking my hand. "But it is a pleasure to meet you." Tired, definitely, but charming at least.