France fears waning EU influence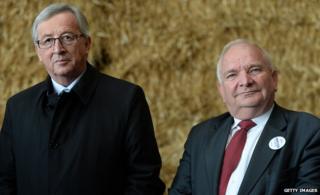 The French secured only a handful of the coveted jobs in the European Parliament after the May elections and many believe they only have themselves to blame.
As the horse-trading over top posts in the parliament draws to an end, French gains look slim. They obtained two of a total of 22 parliamentary committees and sub-committees and are now in charge of fishing and the budget. Arguably not much to write home about.
For France, one of the founding members of the EU, this is evidence that its influence is, for the moment at least, on the wane.
So it's probably with some irony that the French look across at their British partners. They may be more Eurosceptic than ever, but British politicians can at least work the European Union machinery.
Unlike French National Front leader Marine Le Pen, UKIP's Nigel Farage succeeded in attracting enough MEPs to form a parliamentary group and he now heads the Europe of Freedom and Democracy grouping.
"The British and the Germans are better organised," former Prime Minister Francois Fillon recently admitted. "First time around, [their MEPs] learn the ropes; second time around, they establish themselves, and then they run the show."
France's EU heavyweights, Green MEP Daniel Cohn-Bendit and Joseph Daul, president of the Parliament's largest grouping, the centre-right European People's Party (EPP), are both retiring this year. And candidates of their calibre have yet to emerge.
Who is to blame? Partly the French Socialists and conservatives, for their dire results at the European elections. But France's limited success may also be explained by a lack of European zeal.
According to VoteWatch Europe, French MEPs drafted on average 2.28 reports from 2009 to 2014, compared with 3.09 for the Germans and 3.3 for the Italians.
For French politicians, the job of an MEP in Brussels is often seen as a cushy break in a lacklustre city or, worse, a forced exile from home politics.
France doesn't send its best and most talented to Brussels. The centre-right UMP delegation includes Rachida Dati and Michele Alliot-Marie, not considered rising stars, and Jerome Lavrilleux, who was suspended from the party for alleged party funding fraud.
"France has the influence it merits. You have to choose whether you send hardworking people who speak several languages, or if you use the EU to recycle politicians who don't do their job properly," says centrist MEP Sylvie Goulard.
Maybe French MEPs need shaking up. But many have a niggling feeling that France's poor record is symptomatic of a bigger picture - one the French don't like.
"France has grown weaker and weaker over the past 10 years," said EPP politician Alain Lamassoure in the daily Le Monde.
"[Ex-President] Sarkozy's hyperactivity compensated for France's loss of economic power. Today, President Hollande isn't really making a mark. He is on the back foot with Germany and isn't giving any impetus."