Key EU jobs go to Italy and Poland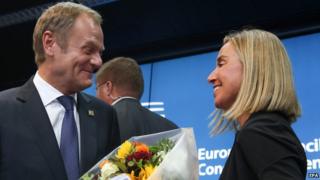 Last month, they couldn't agree.
But after weeks of careful preparation for this meeting, EU leaders have filled two more of the senior jobs in the European Union.
Poland's Prime Minister, Donald Tusk, will become the President of the European Council.
And Italy's Foreign Minister, Federica Mogherini, has won the race for the longest official title in the EU. She will take over from Catherine Ashton as the next High Representative for Foreign Affairs and Security Policy (and vice-President of the European Commission).
There were, and still are, member states who are concerned that Ms Mogherini lacks experience and may be too soft on Russia.
She now has an opportunity to prove the sceptics wrong.
"We still all know that the military way is not the solution (in Ukraine)," she said after being nominated. "We have to keep the diplomatic way open."
And the presence of Mr Tusk will help alleviate some of the fears expressed by those who initially opposed Ms Mogherini's appointment.
He will bring with him to his new job Poland's robust criticism of Russian actions in Ukraine.
"We obviously have various points of view (in the EU)," Mr Tusk told a news conference.
"(But) it is important for all of us to work on a policy towards the Ukraine-Russia conflict… that enables us to reach peace."
Key criteria
Of course, the choice of new leaders for two EU institutions was not just about responding in an appropriate way to the crisis in Ukraine.
There were several important issues of balance at stake.
One of the EU's top jobs has gone to a woman. Another has gone, for the first time, to a politician from a former communist country in Eastern Europe.
There was also the need to balance appointments from the centre left and the centre right.
Now attention will turn to the rest of the portfolios on the next European Commission - announcements are expected to be made in about a week's time by the incoming Commission President, Jean-Claude Juncker.
Several countries, including the UK, are pushing for high-profile economic jobs on the Commission. Some of them are bound to be disappointed.
Trying to define a new, reformed relationship with Britain will be one of the EU's main tasks over the next few years.
"No reasonable person can imagine the EU without the UK," Mr Tusk said after his appointment was confirmed. "I can't imagine it myself."
As President of the European Council he will now play a crucial role in trying to find a compromise, in the run-up to a possible British referendum on EU membership in 2017.