Can EU-Ukraine trade pact survive Russian pressure?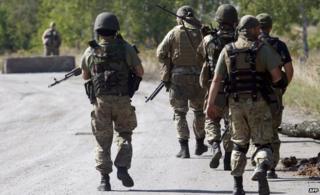 The far-reaching EU-Ukraine trade and association agreement at the root of the whole Ukraine crisis is back... but not quite.
The European Parliament and Ukrainian Rada (parliament) are going ahead with ratification on Tuesday, but the key provisions on free trade will not be implemented until December next year at the earliest.
That delay was the main result of EU-Russia-Ukraine talks in Brussels on Friday, and it is being seen as a significant concession to Russia.
A joint statement after the latest round of trade talks said the parties involved would use the delay to "consult on how to address concerns raised by Russia".
Russia never wanted Ukraine to sign this pact with the EU - and the ousted Ukrainian President Viktor Yanukovych, a friend of the Kremlin, refused to do so.
He fled from Kiev in February amid violent protests against his rule, as millions of pro-EU Ukrainians saw him as a corrupt puppet of Russia.
With heavily armed pro-Russian separatists now controlling a huge swathe of eastern Ukraine, the new President, Petro Poroshenko, and EU leaders appear anxious to consolidate a fragile ceasefire.
There is also anxiety that Ukraine could run out of gas in the bitter winter, as Russia has stopped deliveries, demanding that Ukraine repay its debts.
EU members Poland, Hungary and Slovakia are re-exporting Russian gas to Ukraine - but this "reverse-flow" solution has angered Russia.
Accommodating Russia
Back in November last year, long before the war erupted, EU Commission President Jose Manuel Barroso rejected any Russian influence over the EU-Ukraine pact.
He said it would be totally unacceptable to have "a possible veto of a third country".
But on Friday he said the EU was striving not only for a "sustainable solution" for Ukraine's economic needs, but "also hopefully to manage some Russian concerns".
The Commission insists that liberalising trade with Ukraine does not threaten Russia's interests - and it has produced detailed arguments to debunk "myths" about the EU-Ukraine agreement, officially called the AA/DCFTA.
Russia argues that Ukraine is such a close economic partner that a flood of cheap EU goods could ruin many Russian producers, if Ukraine were to adopt EU free trade rules.
The EU Trade Commissioner's spokesman, Wojtek Talko, told the BBC that it was "pragmatic" to involve Russia in the trade talks.
"The last thing we wanted was to create some political tensions based on the trade agreement," he said.
Ukraine's trade volumes in goods with the EU and Russia are similar.
In 2013 EU imports from Ukraine amounted to 13.8bn euros (£11bn; $18bn), and the bloc's exports to Ukraine totalled 23.9bn euros.
Rival systems
Sources in Ukraine's capital Kiev told the BBC's David Stern that Russia sought to change the text of the AA/DCFTA - but no changes are to be made, so Russian pressure was resisted on that.
But Russia will still try to kill off the trade pact gradually, and Ukraine will try to stall and resist that, he predicts.
James Sherr, a Ukraine expert at the Chatham House think-tank, says the current crisis is so volatile and unpredictable that "it would be fanciful to have confidence that the DCFTA will come into force at any time".
"Apart from sanctions the West has no policy of dealing with Russia's conduct in Ukraine," he lamented.
One thing is clear, he says: it is impossible to square EU trade policy with the Russian-led customs union, which is "highly politicised". "They are deeply incompatible," he told the BBC.